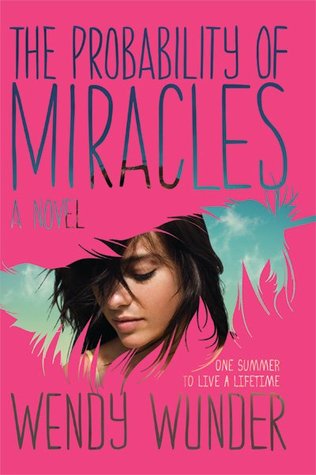 Summary
Dry, sarcastic, sixteen-year-old Cam Cooper has spent the last seven years in and out hospitals. The last thing she wants to do in the short life she has left is move 1,500 miles away to Promise, Maine – a place known for the miraculous events that occur there. But it's undeniable that strange things happen in Promise: everlasting sunsets; purple dandelions; flamingoes in the frigid Atlantic; an elusive boy named Asher; and finally, a mysterious envelope containing a list of things for Cam to do before she dies. As Cam checks each item off the list, she finally learns to believe – in love, in herself, and even in miracles.
My thoughts
When reading books like The Probability of Miracles I always ask myself: Why do you love to read books that make me sad and sometimes even cry?
The Probability of Miraclesis not allthrough sad, not at all,  but still it's a book about cancer and so there is no way around some sad parts without getting unrealistic. I still don't know why I love such books. I just do.
This book made me realize all over again how much I care about fictional characters.
And there are a lot of really loveable characters in this one. Even mostly negativ and sarcastic Cam is such a likeable person, she felt like a close friend to me and it broke my heart each time she felt bad because of the cancer.
I especially love how the lovestory turned out. The absolutely opposite of insta-love, just the way it should be/happens in real life: getting to know each other over a longer timespan and suddenly realising that you have feelings for him/her. The growing relationship between Cam and the boy just felt real.
But this book is not only about cancer and love. There is so much more. Family, friends, the future, what you want from life. All this touched me deep down and got me thinking about my own life and the way I live more than once.
The whole story just felt kind of magical because of it's awesome places and people.  There are a lot of different miracles you get to experience and so many unique people you get to know. With Wendy Wunder's fantastic writing style that made me feel like time stood still and let me lose myself in this story, this book was a perfect read for me.
Favorite quotes
"This is what it felt like to have a broken heart. It felt less like a cracking down in the middle and more like she had swallowed it whole and it sat bruised and bleeding in the pit of her stomach."
"The magic thing about home is that it feels good to leave, and it feels even better to come back."