I wrote my last Flashback post back in June and I started to miss these posts. So I decided to do them again from now on (and stop writing monthly TBRs, even if I still make my monthly list. and will probably just post a picture on my instagram).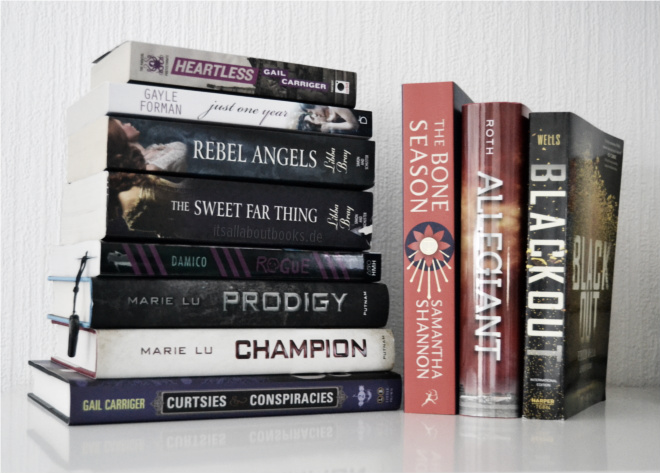 + Blackout (Blackout #1) by Robison Wells ★★★
I'm a huge fan of X-Men and this is kind of like those movies. People with lots of different abilities and people who think they are evil. What I really liked about this one is that you never could be sure who the bad guys are or rather if those military people experimenting on the ones with abilities really are the bad guys or actually helping. 
+ Prodigy (Legend #2) by Marie Lu ★★★
Just perfect and heartbreaking. I was so glad that I waited and read it when Champion came out.
+ Rebel Angels (Gemma Doyle #2) by Libba Bray ★★★
 Just as good as the first one in the series. Libba Bray makes me fall in love with historical fiction again and again.
+ Allegiant (Divergent #3) by Veronica Roth ★☆☆
One of the most boring and annoying books I read this year. From page one I was actually hoping for either Tris or Tobias to get killed so that the story would finally get interesting again. I still can't believe that this book (and Insurgent) comes from the same author who wrote Divergent, one of my favorite dystopias.
+ The Bone Season (The Bone Season #1) by Samantha Shannon ★★★
Thanks to this book I want to read more High Fantasy. It is amazing! I loved this world she created. There was so much to find out I just couldn't stop reading and finished it in one day.
+ The Sweet Far Thing (Gemma Doyle #3) by Libba Bray ★★★
Perfect ending for a perfect series. More than 800 pages and it still would have loved to read more, to spend more time with Gemma and Kartik. And of course the end made me cry. As perfect as it was I still kind of wish it would have endid differently.  
+ Curtsies & Conspiracies (Finishing School #2) by Gail Carriger ★★★
Good thing that I never take these books with me and read them at home instead, so no one can witness my giggling and squealing. This book made me laugh out loud so many times. And Soap ❤ (sounds weird if I write I need/want more Soap in my life!? :D)
+ Heartless (Parasol Protectorate #4) by Gail Carriger ★★★
After finishing Curtsies I just had to pick up another book my Gail Carriger. I just love her humor and this world she created. Also preorderd the last book, Timeless, right away after finishing this and searched for similar books (recommendations please!).
+ Champion (Legend #3) by Marie Lu ★★★
Perfect ending was perfect. I already miss Day. Maybe I should reread Legend soon :D
+ Just One Year (Just One Day #2) by Gayle Forman ★★☆
Seems like Gayle Forman's second books always disappoint me. Just One Year wasn't bad and I liked Willem better than Allyson but his story wasn't as interesting as hers. I had the feeling that this one day really had an impact on her life and she grew with the experience. But with Willem it felt more like  he was just miserable all the time and his ways to find her were pretty unrealistic as if he could ever have find her like that…
+ Night of Cake & Puppets (DoSaB #2.5) by Laini Taylor ★★★
Amazing, beautiful, magical! Loved it! Zusana and Mik are the cutest!
+ Sea of Shadows (Age of Legends #1) by Kelley Armstrong ★★★
I already expected this to be good…it's Kelley Armstrong. But I didn't expect to be so fascinated by this world and the story. All the books written by her that I read so far are about shapeshifters and the like, things that are pretty common but this was something new to me. And as always: there was this grumpy guy I liked :D Too bad I now have to wait so long for the next book because there is this one thing I really MUST know. 
+ Rogue (Croak #3) by Gina Damico ★★★
Another one of those emotional endings of a series. I really liked how Gina let things come to and end. But the whole story was kind of exaggerate. All these things those teens experience and have to go through were just too much and it became a bit unrealistic that the characters didn't have a mental breakdown after what some of them went through.