There were days this month when I thought there was a reading slump ahead. I didn't feel like reading in the evening and watched movies instead. But I guess its only uni that's taking its toll during the week because I managed to read a few books on the weekends.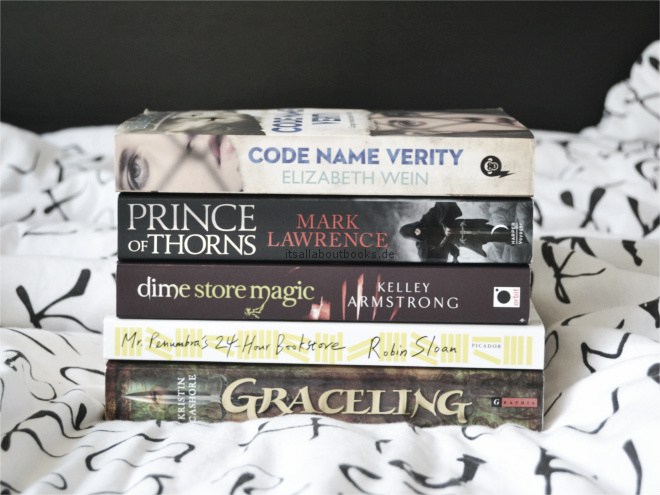 + Code Name Verity by Elizabeth Wein
I really wanted to love this one as much as everyone else does but it looks like this just isn't for me. I was struggling for a very long time until I at least didn't feel like giving up on it anymore. I only really liked the last 150 pages but they couldn't make up for the first part. A sure sign that this story couldn't get to me was that there was not even one moment when I was near tears what I should have been with this kind of story.
+ Prince of Thorns (The Broken Empire #1) by Mark Lawrence
After watching Regan's Book Haul I suddenly felt the urge to read some epic fantasy and this was one of the very few I already had on my shelf. And it was SOO good! It was like reading from Geoffrey's pov (Game of Thrones) and it was awesome!
+ Dime Store Magic (Women of the Otherworld #3) by Kelley Armstrong
I was a bit afraid of reading this because of the new pov. I didn't like Paige that much in the second book but needn't have worried. This book was just as good as the first two and I can't wait to read another one from her pov.
+ Mr. Penumbra's 24 Hour Bookstore by Robin Sloan
What do I say… It was awesome! I felt like this book was written for me with all its bookish programming stuff :D
+ Graceling (Graceling Realm #1) by Kristin Cashore
This book wasn't on my original TBR for this month but still being in the mood for some epic fantasy it was the only choice I had besides A Feast of Crows and buying new books. And I'm glad I finally picked it up. I loved it. I'm currently thinking that maybe I'll love every epic fantasy book I will read these next few months just because the genre is pretty new to me but we'll see :D
I plan on writing full reviews about all of them but Dime Store Magic. Probably a series review for the Graceling Realm because I'm going to read the second and third one soon too.