I'm still mostly reading epic fantasy and I love it! (It also means I'm buying way more books than I wanted to but I didn't have a lot of epic fantasy books…) There are still so many books I want to check out, so many series I want to start, 2014 is sure going to be epic.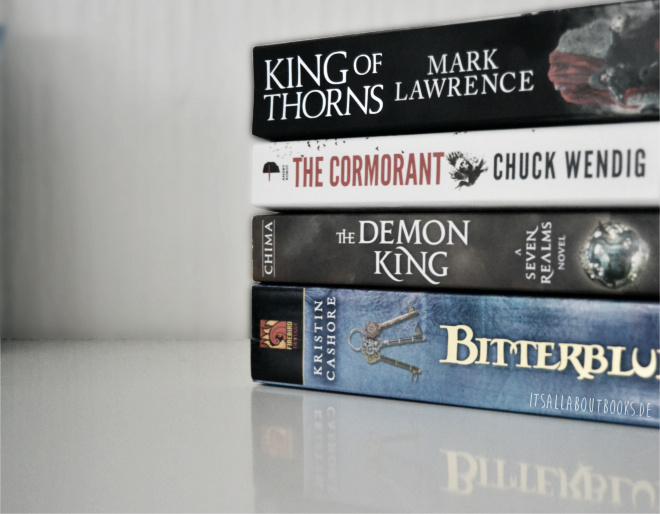 + The Vanishing Season by Jodi Lynn Anderson
This one was great and I must have a print copy with the pretty cover. I especially loved the mood in this one, how quiet and calm it was. (my review is going to be up closer to the release date)
+ Bitterblue (Graceling Realm #3) by Kristin Cashore
Po and Katsa! <3 I loved that we got to read about them some more. As much as I like Bitterblue, I think this was the least interesting one in the series. But it's been a great read and I enjoyed reading it a lot. I loved how all three books were tied together but was a bit disappointed about something at the end. 
Does anybody know if she is currently working on something new?
+ The Demon King (Seven Realms #1) by Cinda Williams Chima
This has been one of the slower paced ones. It took some time for me to really get into it and like the characters but once I was it was really good. The first half isn't that thrilling but the second half suddenly picks up and it got really really good so that I wanted to get the other books right away.
+ The Half Life of Molly Pierce by Katrina Leno
I think this would be a great book to read together with others. On the one hand I thought I knew what is going on and on the other certain things made me think that I'm completely wrong. Iit's a topic I've never read about before and made this interesting to read. I'm still not sure that I can believe something to happen in this way but it was definitely a great story.
+ The Cormorant (Miriam Black #3) by Chuck Wendig
I think this one is the weakest in the series so far. I loved it but it was missing something. It had a great start and made me laugh all the time but then it went in a direction that was kind of weird/I didn't like as much as the other books. Still a very good addition to the series and I can't wait to read the fourth book.
+ King of Thorns (The Broken Empire #2) by Mark Lawrence
Jorg is one of the most interesting characters I ever read about and I can't get enough of him. There should be more books from the perspective of the bad guys! (even though he isn't as bad anymore as he has been in the first book) If you think Joffrey from GoT is an interesting character you should read this series!