I participated in the Boutofbooks read-a-thon last week (which was so much fun!) and therefore read quite a lot of books already this year. And I'm pretty good at choosing the right books for me right now. Most of them are 5 star ratings and a few even made it on my favorites shelf.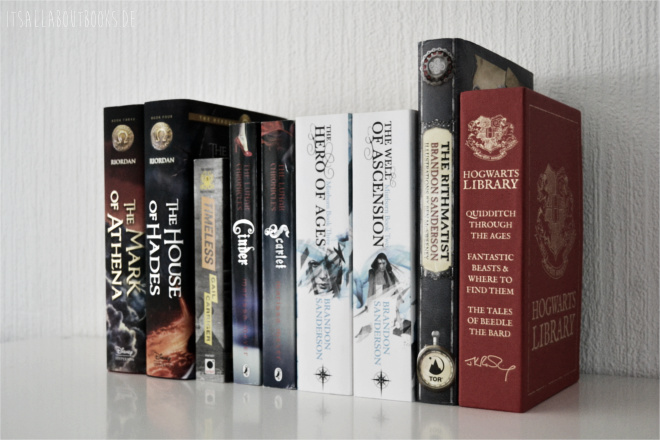 + The Mark of Athena (HoO #3)
+ The House of Hades (HoO  #4) by Rick Riordan
I can't believe how good this series is! The House of Hades is definitely my favorite in the series. It already felt like an epic finale. I can't imagine how awesome the last one must going to be like.
+ The Well of Ascension (Mistborn #2)
+ The Hero of Ages (Mistborn #3) by Brandon Sanderson
Brandon Sanderson is now one of my favorite authors! This series was brilliant and fantastic! I still can't get into my head how mind blowing this was, especially the end.
+ The Rithmatist (The Rithmatist #1) by Brandon Sanderson
This was a fun and light read and a perfect choice after the Mistborn trilogy. It's High Fantasy too with an awesome world building but not as epic as his Mistborn books.
+ The Hogwarts Library by J.K. Rowling
I got this box set right after hearing about the news of the upcoming movie. I don't know why I haven't read them earlier but it was a fun read and made me want to go on with my HP reread.
+ Timeless (Parasol Protectorate #5) by Gail Carriger
Finally finished this series (already started reading this at the beginning of December but then I discovered Brandon Sanderson….). I liked how she ends this series a lot. The beginning was a bit slow but the end even more thrilling than I expected.
+ Cinder
+ Scarlet by Marissa Meyer
It was time to finally reread Cinder (I can't believe how much I forgot over the past 2 years) and read Scarlet. I just love this series so much and can't wait to read Cress. 
+ The Cabinet of Curiosities by Stefan Bachmann
I got a sneak peek of this for review and definitely made me want to get the book. I only got to read 4 of the stories and some illustrations and liked them all.