Another three weeks of very good books and I'm still in love with (epic) fantasy.  I only read one book that wasn't as good as I hoped it would be and I read lots of books that were very good. One of those is one of my most anticipated books of this year and I am so very happy that it was even better than I thought it would be.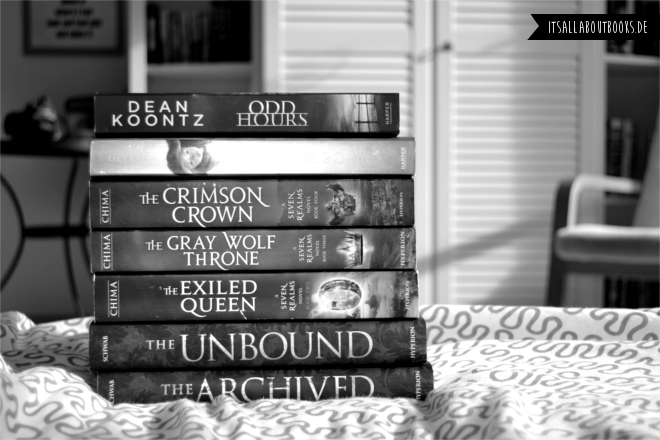 + The Exiled Queen (Seven Realms #2)
+ The Gray Wolf Throne (Seven Realms #3)
+ The Crimson Crown (Seven Realsm #4) by Cinda Williams Chima
I love to read a series as a whole and not having to wait months between books. Especially with this series I was glad to be able to do that. The books don't have cliffhangers but they have endings that made me want to start reading the next one right after. 
All together I very much enjoyed the series. It doesn't have any new elements/ideas but is more character driven  and I liked these characters a lot.
+ Cruel Beauty by Rosamund Hodge
You can look out for a review about this one soon. For now: it's quite predictable (which isn't inevitable with it being a retelling) and I didn't enjoy the romance in this book but overall I liked it and would recommend it.
+ Liesl and Po by Lauren Oliver
Between all these (epic) fantasy books I'm reading I needed something light and fast to get through. 
Even though I love Lauren Oliver's contemporaries the most I also like her MG novels a lot. I start to have a thing for boys called Po! This Po with his pet is just the cutest!
+ Odd Hours (Odd Thomas #4) by Dean Koontz
I still aim to finish as many series as possible this year and with the last Odd Thomas book coming out this year I want to read the other books left this and next month.
Unfortunately this is my least favorite in the series so far. It took half the book to finally get interesting and overall it felt kind of exaggerated with what Odd has to deal in this book. 
+ The Archived (The Archived #1)
+ The Unbound (The Archived #2) by Victoria Schwab
The Unbound has been one of my most anticipated books of this year and while "everyone" was already reading it and I was still waiting for my copy to arrive I decided to reread The Archived. And loved it even more than the first time. And then I finally got the Unbound and loved that one even more (if that is even possible).
WES! I love that boy so much! (you have no idea how happy I was that he turned up so often in the second book!)
+ Shadow and Bone (The Grisha #1) by Leigh Bardugo
I quite enjoyed this one even though I expected something different. Especially the Darkling felt kind of disappointing. I expected him to be… well, darker. I loved the world Leigh Bardugo created and I'm looking forward to read the other two books. I'm in no rush to get them right now though.