After I was done with wirting exams and papers I had three weeks of free time ahead of me that I wanted to use to read ALL the books because I know the summer semester will be stressful. And as you may have noticed I didn't even feel like blogging in those three weeks. Hopefully I'm back in the mood again because I've got a lot of catching up to do.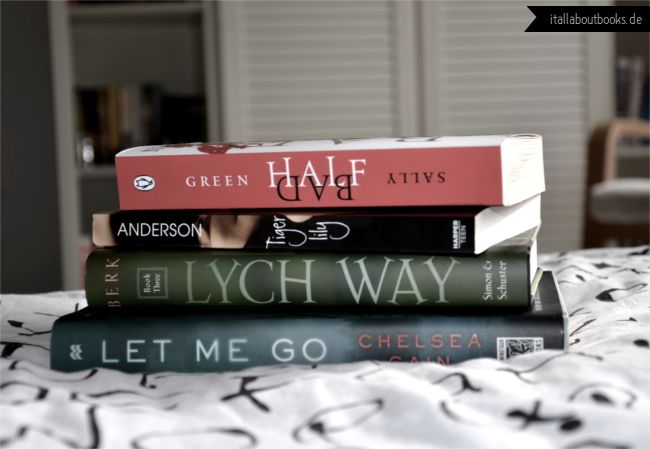 + Let Me Go (Archie Sherdian #6) by Chelsea Cain (3/5)
It's about time to let go of Gretchen. As much as I love to read about this serial killer, after so many books it's getting unrealistic and it's missing the trill.
+ Half Bad (Half Life Trilogy #1) by Sally Green (4/5)
This book had quite an impact on me. I made me really angry about the way the main character is treated and that's why I liked it. I also liked the writing style a lot.
+ Tiger Lily by Jodi Lynn Anderson (5/5)
Jodi Lynn Anderson has such a beautiful way of writing. I liked Tiger Lily even more than The Vanishing Season. This story was beautiful and heartbreaking.
+ Lych Way (The Undertaken #3) by Ari Berk (4/5)
A great ending to this series!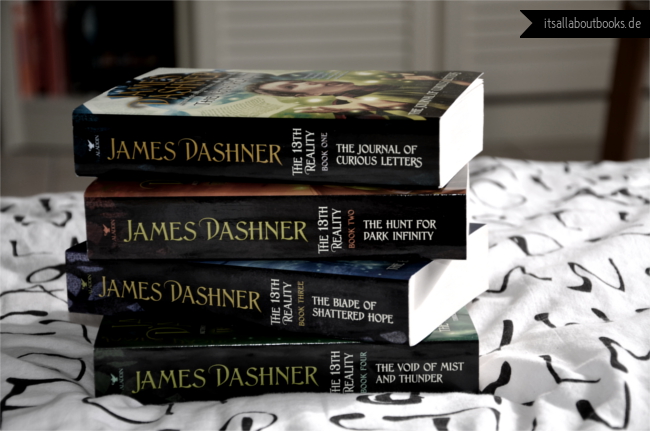 + The 13th Reality Series by James Dashner (4/5)
A great MG scifi adventure! If you like Percy Jackson you might give this one a try. I read the whole series in only a couple of days because it's not only a good story but was also fast to get through.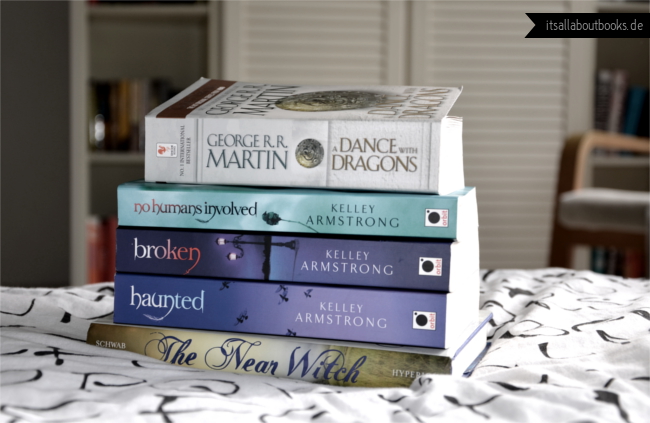 + Haunted (Women of the Otherworld #5) (4/5)
+ Broken (Women of the Otherworld #6) (4/5)
+ No Humans Involved (Women of the Otherworld #7) (4/5)  by Kelley Armstrong
I love all these different characters so much! And I'm glad that I still have a lot of books to read in this series.
+ A Dance With Dragons by George R.R. Martin (4/5)
So much better than the fourth book! And finally some action with the dragons! Not sure how I feel about having to wait for the next one now though :D
+The Near Witch by Victoria Schwab (4/5)
Not as good as her newer books but still a great story.
+ Dear Killer by Katherine Ewell (2/5)
I love books about serial killers, especially a killer's pov but this one was not my thing. Too many things that I didn't like about it.
+ Prisoner of Night and Fog (Prisoner of Night and Fog #1) by Anna Blankman (4/5)
A great historical fiction story! I loved how many real aspects are included in this story. There are only a few characters that are made up and it has a interesting pov that was kind of weird at the beginning.
+ The Wicked We Have Done (Chaos Theory #1) by Sarah Harian (4/5)
Great story! Lot's of action and even if some "secrets" were pretty obvious it was still thrilling from beginning to end.