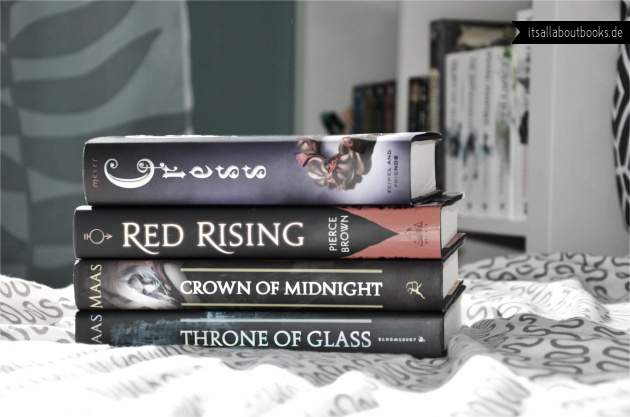 + Throne of Glass (Throne of Glass #1)
+ Crown of Midnight (Throne of Glass #2) by Sarah J. Maas
I liked the first book a lot (my review) and then LOVED the second one. So much action, all this mysterious stuff happening and a kick-ass heroin!
+ Cress (Lunar Chronicles #3) by Marissa Meyer
The second book is still my favorite (WOLF <3) but Cress was awesome too. I really don't want to wait another year for Winter!
+ Red Rising (Red Rising #1) by Pierce Brown
Really, REALLY good! Review is going to be up tomorrow!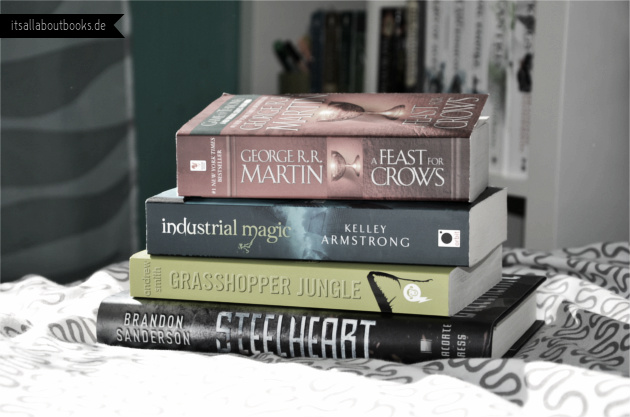 + Grasshopper Jungle by Andrew Smith
Funniest book I read in a long time! (my full review)
+ Industrial Magic (Women of the Otherworld #4) by Kelley Armstrong
I'm slowly making my way through this series and I loved every book so far. This one was great. I loved when all of the known characters got together.
+ Steelheart (Reckoners #1)
+ Mitosis (Reckoners #1.5) by Brandon Sanderson
It's Brandon Sanderson so of course this was amazing. This man has fantastic ideas!
+ A Feast for Crows (Song of Ice and Fire #4) by George R.R. Martin
This was boring. When I started reading it I thought I wasn't going to like it because of the lack of my favorite povs, but a lot of them were there. The whole story was just boring because nothing happend, no one died (at least no one important).
+ BZRK Apocalypse (BZRK #3) by Michael Grant
I just had to read this right when I got it. It was an epic finale for this mind-blowing series!
I was quite busy and didn't get to read a lot of books in February but March is already starting off pretty good! I still don't think I get to read all the books I want to (my March TBR) but I'll try.
Did you read any amazing books lately? What books are you going to read in March?