It looks like I read a lot of books but for me 7 books, 2 short stories and 1 comic is too few for nearly 4 weeks of reading. The past few weeks I've always been really tired when I got home and I didn't get enough sleep. Thanks to the BoutofBooks readathon I'm currently getting back into full flow though and I hope that I can still reach my goal for the TBR challenge.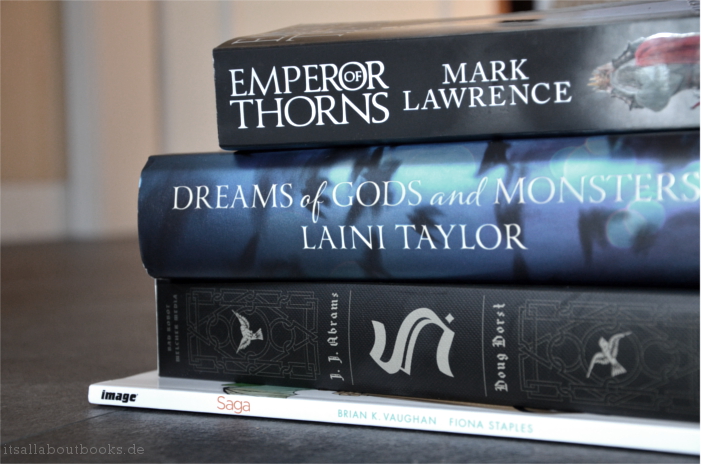 + Dreams of Gods and Monsters (DoSaB #3) by Laini Taylor  


A perfect ending for this series. Couldn't be more happy about it! (Review coming soon)
+ Oath Bound (Unbound #3) by Rachel Vincent 


It is my least favorite in the series but it was still pretty good and a good ending for the series.
+ (Don't You) Forget About Me by Kate Karyus Quinn 


I enjoyed this one a lot and I'm glad that I already have Another Little Piece on my TBR pile. (Review to come)
+ S. by J.J. Abrams and Doug Dorst 


An exhausting and unsatisfying read. My full review of S.
+ Exquisite Captive (The Dark Caravan Cycle #1) by Heather Demetrios 


This could have gotten a 5 star rating so easily if the romance had been better or  had been left out. At least there is no love triangle like I feared. (Review to come closer to the release date)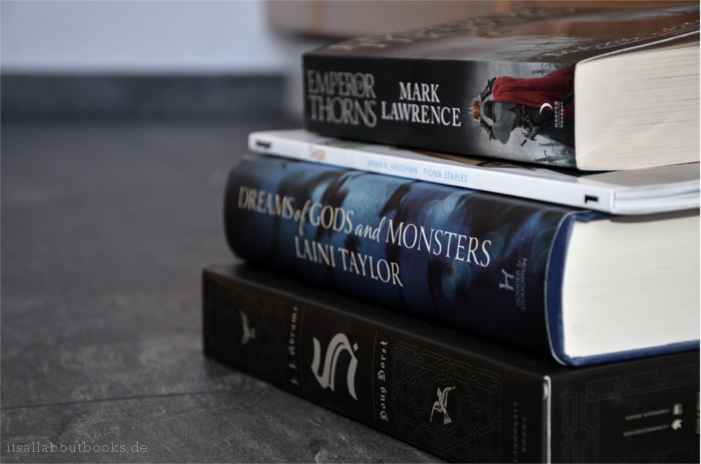 + Saga Volume 1 by Brian K. Vaughan 


SO GOOOD! A mix of SciFi and Fantasy = my favorite genres. I haven't read comics in years but this one got me back into reading them.
+ Lucky Day (Jasper Dent #0.1) by Barry Lyga 


A great short story! It was interesting to read about how Jasper's father was caught.
+ Born of Corruption (Born of Illusion #1.5) by Teri Brown 


I enjoyed this short story a lot. It was nice to read a little murder mystery between books.
 + Born of Deception (Born of Illusion #2) by Teri Brown 


I don't really understand what happened.  I loved the first book and after reading the short story I thought it would continue just like that. I didn't enjoy this though. (Review coming soon)
+ Emperor of Thorns (Broken Empire #3) by Mark Lawrence 


I never expected this series to end like it did and I loved it that way.  I can't wait to start reading his new series that is set in the same world! (Review of the whole series coming soon)