Book and blog related 2014 was an amazing year and I'm still so happy that I made the switch last year from German to English because since then I got to know awesome new people through my blog! I also met a lot of German bloggers (again) this year and every time was just glorious! I'm SO thankful for all the amazing friends I've made through my blog. Booknerds are the best! ❤
I also read a ton of awesome books (especially since I dived into epic fantasy and started way too many series but a lot of them are amazing so I don't mind…), added new authors to my auto-buy list, managed to reread 14 books (I planned on reading 12, so YAY!) and  only a small number of books were disappointing.
My favorites:
I usually post something like 'top 14 of 2014' but I already had a hard time choosing books for this post, that I thought I'll change it a bit this year.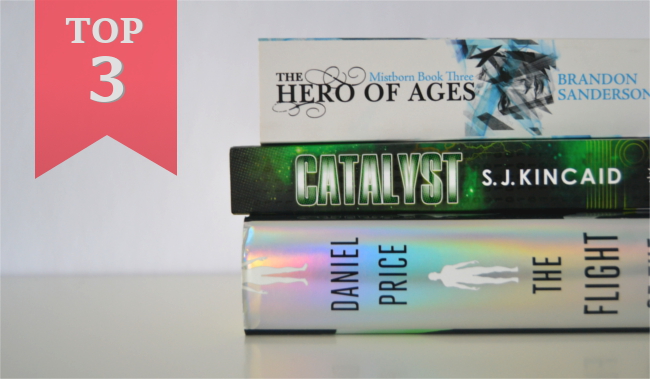 Top 3 of 2014: 
The Flight of the Silvers by Daniel Price
An awesome alternate world with people having fun superpowers! (my review)
Catalyst by S.J. Kincaid
An epic last book in the Insignia series that was my favorite book out of the 3! It felt so real that it was scary. (my review)
The Hero of Ages by Brandon Sanderson
I read many Sanderson books this year and this was the most emotional one. I'm still not over this series even though I read it at the beginning of the year. (my review)
(my complete list of favorites)
Top 3 new-to-me authors: 
Daniel Price (The Flight of the Silvers)
Cinda Williams Chima (The Seven Realms series)
Sarah J. Maas (Throne of Glass series)
Top 3 debuts:
Statistics:
Instead of just listing a bunch of numbers I thought it would be fun to compare them to last year! Especially the statistic about the genres I read is interesting I think, as it changed a lot: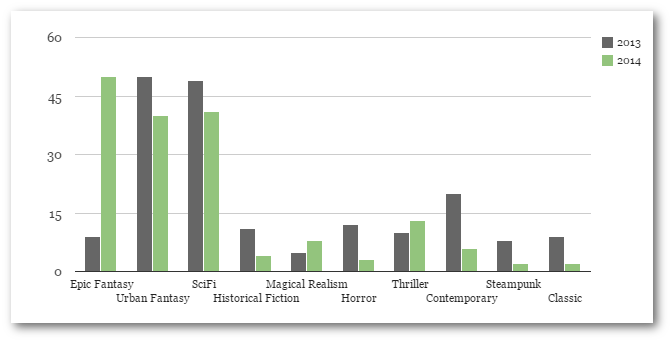 My newfound love for epic fantasy is clearly visible (about 30% of all the books I read)! :D
I'm somewhat sad though that I didn't manage to read as many classics and historical fiction books again. 
I read about 20 books less than the previous year but that's mostly due to me reading more bigger books and reading a lot of short stories during 2013. I actually read roughly the same number of pages like last year.
Books read: 167 (2013: 185)
Pages read: 62k (2013: 62k)
Series started: 44
Series finished: 19
DNF: 9
Average rating: 4.03 (68 books with 5 stars and only 6 with 1 star)
Some other fun facts:
55% of the books I read were from female authors, 45% from male authors.
(I wanted it to be 50/50 so I like the outcome)
I read 32% of the books as an ebook, 30% as hardcover and 38% as paperback.
(I'm surprised how many ebooks I read this year! This was a lot more than last year.)
5% of the books I read were middle grade, 63% YA and 32% adult.
(I think the number of adult books will go up a bit again next year)
Happy New Year!