I'm still on the book buying ban I started over 6 weeks ago, so I only got a few book this month. I preordered some books a while ago that are must-haves and got an ebook for review but besides that I finally got back to reading books from my tbr pile.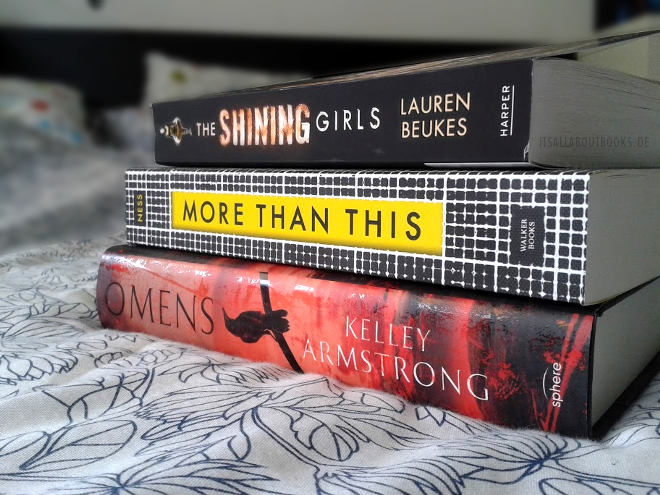 + The Shining Girls by Lauren Beukes
A book about a time travelling serial killer sounds exactly like my cup of tea. I already started reading it and I'm not that impressed yet but I hope it will get better soon.
+ More Than This by Patrick Ness
I already read it right when I got it and it's AMAZING! My review will be up soon but overall let's just say: buy the book already!
+ Omens by Kelley Armstrong
Got this one today and I'm super excited about it. I already read the first few chapters and liked them a lot.
ebooks:
+ Cain's Blood by Geoffrey Girard
Awesome book about teenage serial killers (who are actually clones of known serial killers). Very grateful that I got to read this thanks to edelweiss. Now I'm excited about the YA companion 'Project Cain'.
+ Going Dark by Robison Wells
A prequel to his upcoming novel 'Blackout' which I can't wait to read after I read Going Dark.
+ The Maze Runner Files by James Dashner
I hoped to get some new additional information about the Maze Runner series but that wasn't really the case. Still interesting to read though.