Waiting On Wednesday is a weekly event, hosted by Breaking the Spine, that spotlights upcoming releases.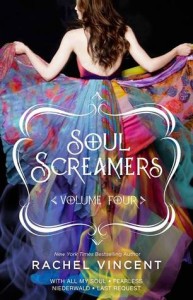 Soul Screamers Vol. 4 by Rachel Vincent
What does it mean when your school is voted the most dangerous in America? It's time to kick some hellion butt…
After not really surviving her junior year (does "undead" count as survival?), Kaylee Cavanaugh has vowed to take back her school from the hellions causing all the trouble. She's going to find a way to turn the incarnations of Avarice, Envy and Vanity against one another in order to protect her friends and finish this war, once and forever.
But then she meets Wrath and understands that she's closer to the edge than she's ever been. And when one more person close to her is taken, Kaylee realizes she can't save everyone she loves without risking everything she has…. (Goodreads)
Why I'm waiting: It was so hard to wait for this final bindup of the last Soul Screamer books. I can't wait to finally get to know how it all ends even though I don't want to say goodbuy to these characters.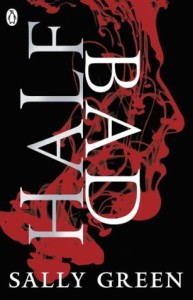 Half Bad (Half Life Trilogy #1) by Sally Green
In modern-day England, witches live alongside humans: White witches, who are good; Black witches, who are evil; and fifteen-year-old Nathan, who is both. Nathan's father is the world's most powerful and cruel Black witch, and his mother is dead. He is hunted from all sides. Trapped in a cage, beaten and handcuffed, Nathan must escape before his sixteenth birthday, at which point he will receive three gifts from his father and come into his own as a witch—or else he will die. But how can Nathan find his father when his every action is tracked, when there is no one safe to trust—not even family, not even the girl he loves? (Goodreads)
Why I'm waiting: 1. The cover! Someone had to tell me that there is a face on the cover but since then I love it even more than I did before that :D 2. It says "In the tradition of Patrick Ness and Markus Zusak…" Do you need more than that? Well, there is an interesting summary, about witches in England…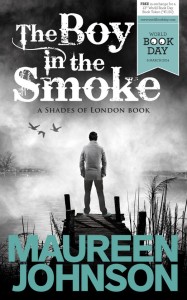 The Boy in the Smoke (Shades of London #0.5)
by Maureen Johnson
On a cold night, Stephen Dene went to the Eton boathouse to perform a desperate act. But someone stopped him along the way, sending his life in a new and decidedly strange direction–leading him to London, to two new friends, and to a world of shadows and mystery. (Goodreads)
Why I'm waiting: Finally something new from the World of the Shades of London. It has been driving me nuts that we have to wait so long for the next book, not even knowing when it will come out. And now at least a story about Stephen <3