(TTT is a weekly meme hosted by The Broke and the Bookish)
Today's TTT was either about books that are going to be in my beach bag or recommendations for yours. I chose to recommend books because I'm not going to spend a lot of time on a beach this summer. Books that I wouldn't take to the beach with me are ones that cause feels (don't want to be seen in public when I drown in feels), books that are too precious to get even one grain of sand between the pages (mostly pretty hardcovers) and large books that are too heavy to carry around. Besides that I would take every single book with me. I don't prefer certain genres for each season (e.g. light contemporaries in summer).
Anna and the French Kiss by Stephanie Perkins • The Theory of Everything by Kari Luna
One for the Money by Stephanie Perkins • Grasshopper Jungle by Andrew Smith
I guess these are the books most people like to read in summer/on the beach. The first two are fun contemporaries which also deal with some things that are less fun but I think they are both perfect to take with you to the beach.
You may want to stay away from the other two books if you don't want to laugh out loud in public! Both books are a lot of fun.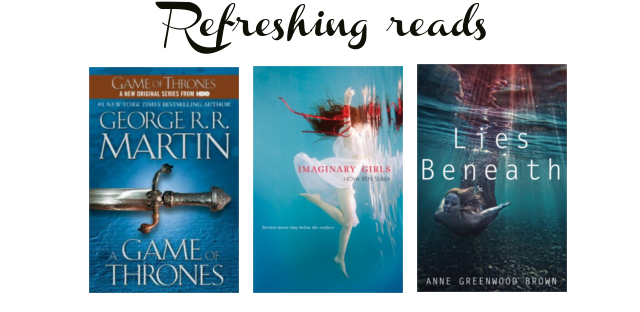 A Game of Thrones by Gorge R.R. Martin •  Imaginary Girls by Nova Ren Suma
Lies Beneath by Anne Greenwood Brown
I only own MassMarket PBs of the Song of Ice and Fire series and those are perfect to take with me to the beach. They are small, don't weight a ton and I don't really care if anything happens to them. Also: Winter is coming! What could be more refreshing than that!?
Imaginary Girls already looks like a refreshing read and it is also set near a lake, the characters often visit.
Also perfect beach reads are mermaid books. This one is even better: it's about a merman!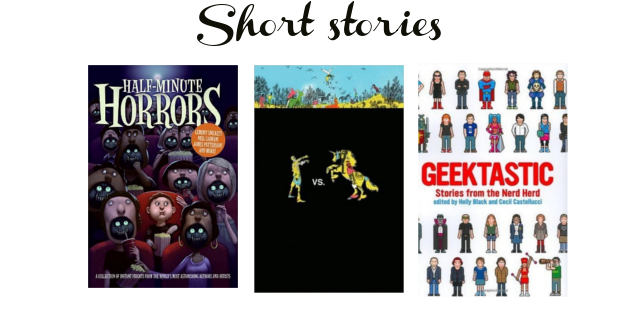 Half-Minute Horrors • Zombies Vs. Unicorns  • Geektastic
I don't know about you but when I'm at the beach I never read many pages at one go. That's why I think anthologies are perfect to take with you to the beach and these three are my favorites.