One of the reasons why I'm excited about the start of a new year is that I can start using a new spreadsheet. I've used them for years to keep track of the books I read and got, just because I LOVE making lists. I come up with a new one every year and as there are always people who want me to share them, here is my new one for 2015.
Overview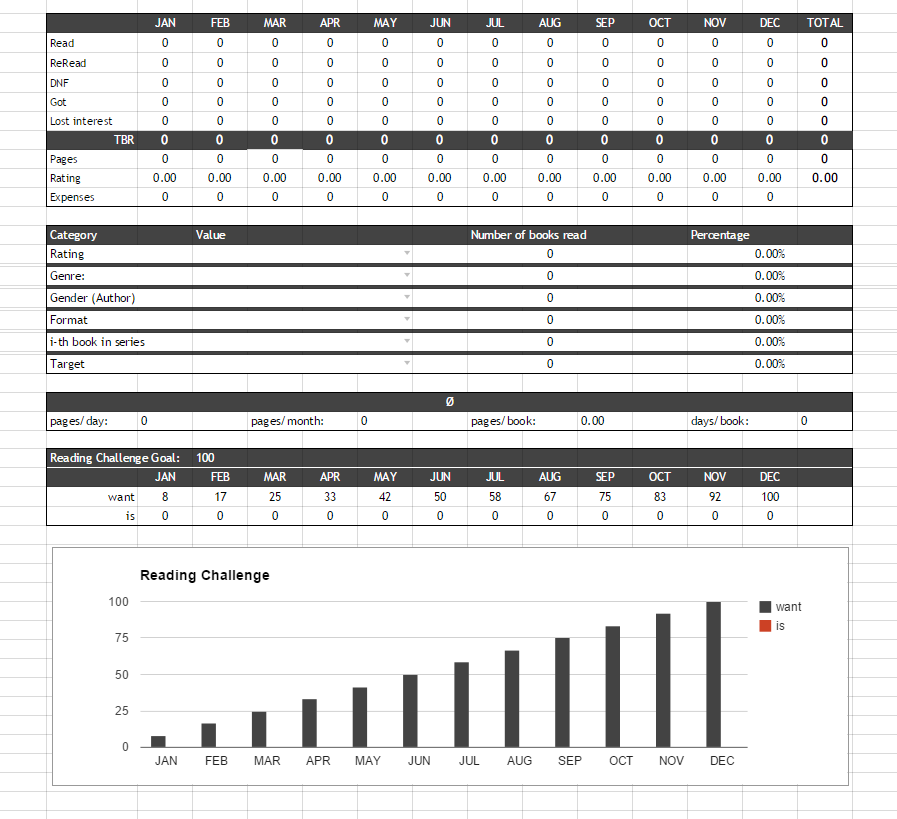 At first I always have a table that shows the different statistics for each month of the books I read and got.
I also always keep track of my TBR, so there is a row for books I lost interest in (= gave away without reading) and one that shows if my TBR increased or decreased.
The next table is completely new. I usually had some sort of diagram to see statistics about genre, format and the like but I wanted something different where I don't have to set the possible values. Now I can just choose a value from a drop-down list (which is automatically generated by all values I used) to see the number of books I read and the percentage.
The next one has some more statistics about the books I read. I kept that one pretty simple and just calculated e.g. number of books divided by the current day of the year instead of the actual number of days read. So if I don't read any book for a month, those values will be false. I wanted them that simple though to just get an idea what these values are. 
(If I find the time I might actually upgrade this one though, if people are interested!?)
The last one is the yearly reading challenge where I can set myself a goal (as in the example: 100) just like you do on GR and see if I'm on track.
(This counts rereads and DNFs too)
Notice: If you plan on using this – the only values you should edit in this tab is the row of "lost interest" values and the Reading Challenge Goal.
Read

This is the tab where I keep track of the books I read:
The date I finished the book, the book title, gender (author), genre, format, target, # in series (I personally use 0 for standalones and "last" instead of the number, to see how many series I finished), number of pages, rating and the status (read,reread,dnf).
Got

This is the tab where I keep track of the books I got: here I'm just interested in the date, the book title and how much I payed for it.
TBR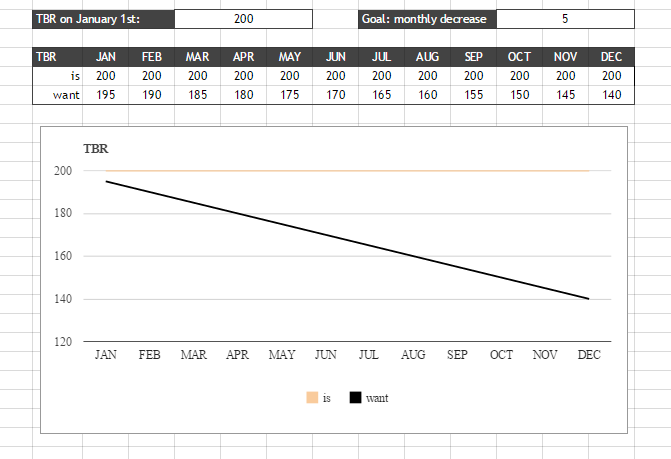 The last tab is about my TBR again:
I set my TBR at the start of the year and my reduction goal (for the TBR reduction challenge) and can see if I'm on track.
If you want to use this spreadsheet you can make a copy of the file here. If you find a glitch or have a question just leave a comment!
(Some statistics in the Overview tab depend on the date and won't work until 2015! Make sure to always provide a date for each entry in the read and got tabs or you will get some false statistics!)