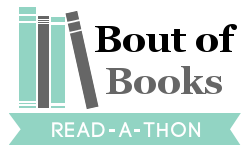 "The Bout of Books read-a-thon is organized by Amanda @ On a Book Bender and Kelly @ Reading the Paranormal. It is a week long read-a-thon that begins 12:01am Monday, May 11th and runs through Sunday, May 17th in whatever time zone you are in. Bout of Books is low-pressure. There are challenges, giveaways, and a grand prize, but all of these are completely optional. For all Bout of Books 13 information and updates, be sure to visit the Bout of Books blog."
– From the Bout of Books team.
I'm so excited that I finally have the time again to participate in this amazing read-a-thon! Not only does it help to read a lot (sometimes I actually read less because there is too much going on on Twitter), it's also a great way to get to know new people through the chats. I really hope I find the time to read a lot and participate in one of the chats.
Goals:
read3-4 books
participate in 1 chat
comment on 1-3 blogs each day
Progress:
Pages read: 168
Books: More Than This
Pages read: 0
Books: /
Pages read: 190
Books: Get Even
Pages read: 199
Books: Get Even
Pages read:
Books:
Pages read:
Books:
Pages read:
Books:
Overall: