I have shared this spreadsheet before, about a year ago, but it has changed so much since then and I also didn't share an empty copy in case someone wants to use it too. So here it is again. 
I case you didn't know: I love series. I always prefer series over standalones which means that I have a huge list of series that I read/am reading/want to read. I just had to start a spreadsheet to keep track of them all. That I love getting statistics about what I read only adds to that need.
This is an example of how I keep track of my series:

I have a row for each series and then keep track of when series start and finish, when I started and finished them, as well as a status for each individual book.
The first column indicates the status of the series:
empty: still reading it or need to start it
✓: finished reading it
↯: DNF
The fun part: The name of the series changes its style automatically according to that field.
The 8th column is for the number of books in a series. After entering that number, the fields for the books will automatically fill themselves with color like in the picture above.
The status of each book:
X: the book is read
O: own the book but haven't read it yet
B: still need to buy this book
When a series is a DNF, the fields of books that are unread stay empty
And then the fun part: statistics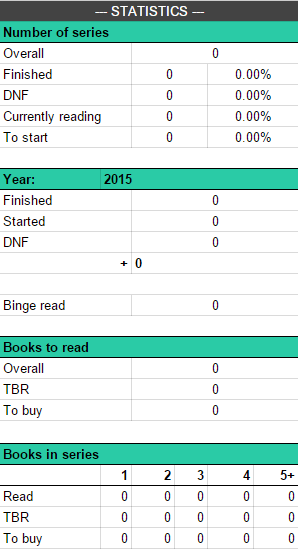 By changing "2015" to any other year, you can get the statistics for any year you want.
A few extras:
a tab that shows which series started in a specific year
a tab that shows which series were completed in a specific year
option to sort the series by name of the series or author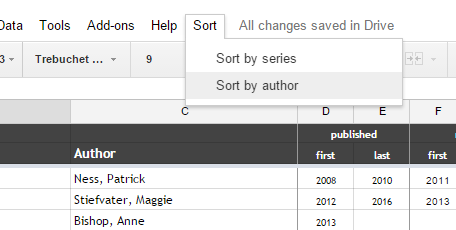 Get the spreadsheet here
(This is read only. You have to make a copy for yourself via File>Make a copy)