Warning
: fopen(http://bit.ly/1OUpg5n): failed to open stream: HTTP request failed! HTTP/1.0 410 Gone in
/www/htdocs/w00e036f/wp-content/plugins/AllAboutBooks/allaboutbooks.php
on line
47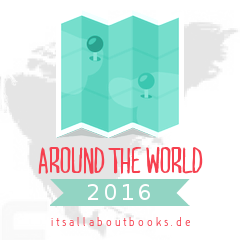 The Around the World challenge is going into its second year and I'm still overwhelmed by the response it got last year. I hope just as many are going to join me in exploring the world through books again in 2016.
What is the challenge about?
The goal of the Around the World challenge is to visit as many different places in the world through books, especially places that are rather rare, and not the kind of settings you see in 95% of all the books you read. We're are going to do this by creating a google map where every pin on the map stands for one book. The goal is to have as many pins as possible and they shouldn't be very close to each other but spread all over.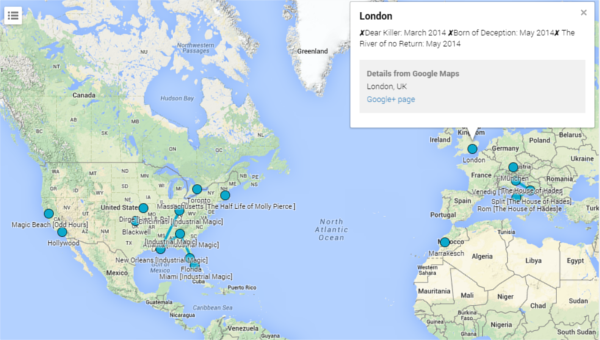 The rules
There is no start and/or end date for when to join the challenge (latest date to enter your link is Dec 31st, 2016)
A book counts if you've read it in 2016 (= started AND finished in 2016), no matter when you joined the challenge
If characters travel to different places in the book, every place counts
Tip: you can connect places on a google map!
One book can count for multiple or even all mini challenges
The mini-challenges
The mini-challenges are additional challenges that can help you archive your goal in different ways, but they are completely optional and you can do as many of them as you want. For many of them you can set your own goal, some of them have fixed numbers of books that are to be read:
Read one book for each continent
Read one book for each state in the US
Read one book for each ocean (the character travels across the ocean, no matter how)
The mountaineering challenge: climb the Seven Summits
Three Poles Challenge: visit North Pole, South Pole and Mount Everest
Visit a certain number of extreme points of Earth
Read a certain number of books set in capital cities 
Read a certain number of books set in at least 5 different places (e.g. road trip books)
Read a certain number of books that are set in two places from different continents
Read a certain number of books within a 100km/1.5 Mile radius of where you live
Visit a certain number of the most famous landmarks in the world
A to Z challenge: Find a place for each letter in the alphabet
Visit a certain number of countries.
Read books from authors from a certain number of different countries.
Read a certain number of books set in places you've visited yourself.
How to create  and work with a google map:
login with your google account
go to http://maps.google.com
click the menu button (the icon on the left of the search field) and then click "my maps" 
click "create a map" at the bottom
Adding places: click "Open in My Maps" and search for a place, then click on it on the map. The pop-up provides the option to add it to your map
Tip: you can use different colors and symbols! (e.g. for different mini-challenges)
Connecting places: use the "draw lines" option under the search box
Embed your map: in the menu on the left click the three dots and then choose "embed on my website"
Important! For this to work, the map must be public (use the "Share" button and make sure it's set to "Public on the web – Anyone on the Internet can find and view")
The spreadsheet
During the 2015 challenge I had the problem that I often forgot to enter the places of my books. That's why I have added an additional feature to this year's spreadsheet. Not only will you be able to track the books, their locations and the mini-challenges in this spreadsheet but you can also use this spreadsheet to import the places into your map.

The "Read" tab is for keeping tracks of all books. Here you have a row for each book with its location and the mini challenges. The mini-challenge cell can be filled with a comma separated list of all challenges it counts for, using the short names: C01,C02,…,C15.
If you are going to import your books' locations directly from this spreadsheet then you can only add one location per book or you have to add a book multiple times, once for every location! And if you want to make use of my script (see below) you do not enter anything in the "in map" column, that will happen automatically. If you don't, you use that column to keep track of whether you've marked a location on your map yet.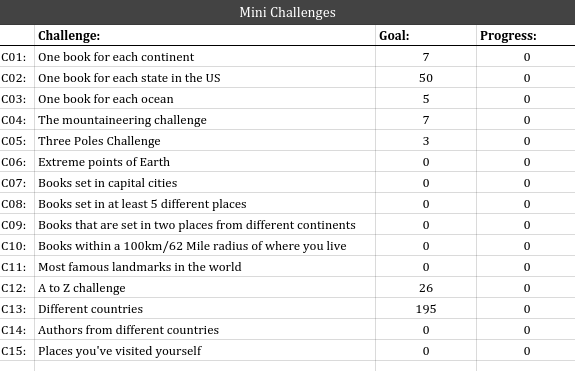 In the "Overview" tab, you will the see the progress of each mini challenge. Here you can set your own goal for each challenge. and the number of books read will automaticall be counted. 
For importing books into your map:
You can only import locations into a new layer of a map, so I for example am only going to import my locations once a month to not have too many layers in the end.
The spreadsheet has a menu item "Import" > "Get books to import" (Note: google might ask permission that the script is allowed to access your spreadsheet).
If you use that one, all books that aren't marked with an "X" for "in map" (in the Read tab) will be copied to the "To import" tab. They will now be marked with an X and books previously listed in the "to import" tab will be deleted.
After you have the list of locations that are not yet part of your map you go to your map and create a new layer. You'll then see the option to import data.
You'll then have to choose a file to import from. Here you choose your spreadsheet from Google Drive.
(Important: only the first tab is automatically chosen. That is why the "to import" tab has to be the first. Do not change the order of the tabs if you want to use this.)
Then you are asked to choose a column for the place marks. Choose "Location" and continue.
Then you are asked to choose a column for the title of the marks. Here you chose "Title".
IF your locations can be found, they'll be added to the spreadsheet. That's why it is important to have a detailed location, for example adding the country or state instead of using just the name of a city.
Get the spreadsheet here (this is a read-only file. You have to make a copy for yourself via File>Make a copy)
Useful links to find books with diverse settings:
You want to participate?
SIGN UP HERE.
Participants:
no participants yet