Waiting On Wednesday is a weekly event hosted by Breaking the Spine that spotlights upcoming releases.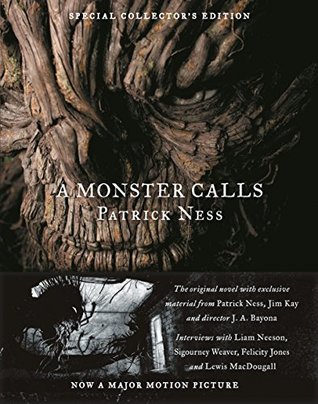 A Monster Calls Special Collector's Edition by Patrick Ness:

In this special collector's edition, discover Patrick Ness's original prize-winning illustrated novel and the remarkable story behind the book and film. In exclusive essays and interviews, read how Patrick Ness created a modern classic, and discover Jim Kay's previously unseen sketches for the book. Hear from acclaimed director J.A. Bayona, and go behind the scenes with actors Liam Neeson, Sigourney Weaver and Felicity Jones to find out how the film was made. Full of never before published material and haunting pictures, this stunning edition gives a fascinating and unique insight into the making of both the book and film.
Why I'm waiting for A Monster Calls Special Collector's edition:
I probably don't even need to say this because OBVIOUSLY I will get this book. This is THE most anticipated book of the year for me, even though it's a book I've already read multiple times but ONE. HUNDRED. PAGES. OF. SPECIAL. CONTENT. *flails*
The original hardcover was already pretty damn amazing but this special edition beats it all. A Monster Calls means quite a lot to me and both this new edition and the upcoming movie are more than I can handle right now. 
A Monster Calls Collector's Edition releases October 6, 2016.