Waiting On Wednesday is a weekly event hosted by Breaking the Spine that spotlights upcoming releases.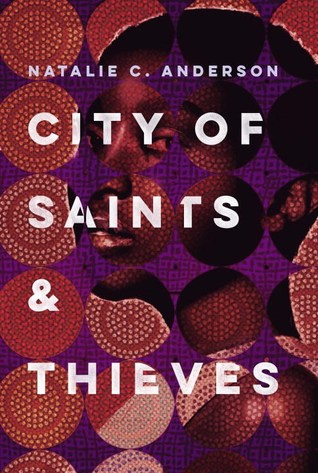 City of Saints and Thieves by Natalie C. Anderson:

In the shadows of Sangui City, there lives a girl who doesn't exist. After fleeing the Congo as refugees, Tina and her mother arrived in Kenya looking for the chance to build a new life and home. Her mother quickly found work as a maid for a prominent family, headed by Roland Greyhill, one of the city's most respected business leaders. But Tina soon learns that the Greyhill fortune was made from a life of corruption and crime. So when her mother is found shot to death in Mr. Greyhill's personal study, she knows exactly who's behind it.

With revenge always on her mind, Tina spends the next four years surviving on the streets alone, working as a master thief for the Goondas, Sangui City's local gang. It's a job for the Goondas that finally brings Tina back to the Greyhill estate, giving her the chance for vengeance she's been waiting for. But as soon as she steps inside the lavish home, she's overtaken by the pain of old wounds and the pull of past friendships, setting into motion a dangerous cascade of events that could, at any moment, cost Tina her life. But finally uncovering the incredible truth about who killed her mother—and why—keeps her holding on in this fast-paced nail-biting thriller.
Why I'm waiting for City of Saints and Thieves:
This books combines a few thins I just can't say No to. 1) A super pretty cover. I just really love the simplicity and choice of color. The title placement and font is A+ too. 2) Thieves in the title. I just can't resist stories about thieves. I'm usually not the biggest fan of YA thrillers but I think this one about a girl seeking revenge for her mother's murder might actually work. 3) Diversity (and thank you very much for showing that on the cover too).