All About Books is a book blog that I started in 2010. I started it as a way to keep track of the books I read, to have an outlet for my thoughts about the books I read and tell the world about my most favorite books so that other people will read them too.
This blog was and always will be just a hobby, a fun way to talk about books which means it has its ups and downs and sometimes needs a short vacation.
After being part of the book blogging community for three years, in which I discovered a lot of wonderful blogs,  got to know and meet a lot of amazing people I also realized that I wanted to change something: A switched from writing in German to writing in English in 2013.
About me: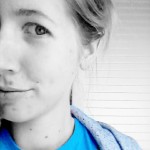 I'm Carina but mostly known as Crini (sometimes with an decorative 'x' as xCrini when the name is already taken :D). I'm a twenty-something web science student and a book addict.
I do not only love to read but I also love to collect books which led to my book buying problem and an ever growing TBR I'm constantly trying to reduce.
Books have always been a big part o my life and I can't remember a time when I haven't read any books. I wasn't reading as many books as a teen as I do now though. I also only became aware of YA books in 2011 which led to me wanting to read ALL the books. I slowly made my way into the YA world in 2011 and since 2012 I'm 100% part of it. Up until then I mostly read adult thrillers and crime fiction which I still enjoy from time to time.
Favorite authorS:
Victoria/V.E. Schwab, Katrina Leno, Patrick Ness
Favorite books/series:
Vicious, Shades of Magic, Chaos Walking, The Raven Cycle, Ready Player One, The Archived, Daughter of Smoke and Bone 
Favorite genres:
SciFi, Epic Fantasy
Ratings:
| | |
| --- | --- |
| | Amazing! Might even be a new favorite. |
| | Great! Liked it a lot. |
| | Good! But some thing were bothering me. Still recommended. |
| |  Meh! Would not recommend. Didn't like it. |
| | The worst! Stay away! Hated it.  |