There are way too many books coming out in September. I wish I could get them all (and have the time to read them). I will be quite busy this month so I only plan on reading four books besides the ones I preordered (which are quite a few) and I already started reading one of those in August: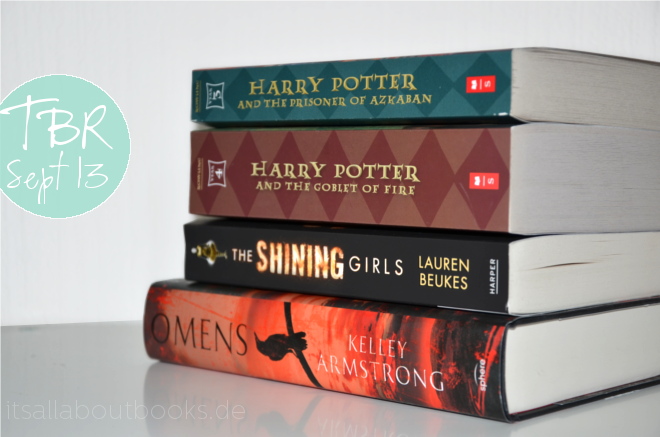 + Omens (Cainsville #1) by Kelley Armstrong
Very excited about this one. A book by Kelley Armstrong just has to be good.
+ The Shining Girls by Lauren Beukes
The one I already started. Hope I'm going to like the rest better than the first third.
+ Harry Potter 3 + 4 by J.K. Rowling
I'm currently rereading the Harry Potter series and it's time for the next two books. I really hope I will get to read both so I can then read one each month until December to finish the series.
Preordered books:
+ Rogue (Croak #3) by Gina Damico
+ Antigoddess (Goddess War #1) by Kendare Blake
+ Project Cain by Geoffrey Girard
+ The Coldest Girl in Coldtown by Holly Black
+ 3:59 by Gretchen McNeil
+ Asylum by Madeleine Roux