I only read 8 books and 2 short stories in September. Besides not having a lot of time to read, I was kind of in a reading slump. But the good thing is, with the exception of one book, I read only really good stories. That one book was 'The Casual Vacancy' by J.K. Rowling. Such a boring book. I would never have made it through the book if I hadn't read it together with a friend.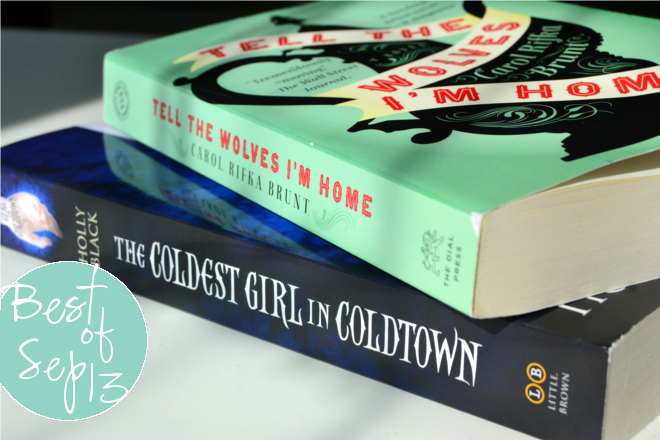 + Tell The Wolves I'm Home by Carol Rifka Brunt
Books that make me cry really are the best ones. And oh boy, this one did. I had to put it down for a short while at the end because I couldn't make out the words anymore. I knew from the start that this one would be a sad story but I clearly didn't know what I got myself into. All these emotions I had to deal with. Most of the times I was so damn angry about certain things. This is definitely a book I'm going to read again and again over the years. 
+ The Coldest Girl in Coldtown by Holly Black
What I loved about Holly's Curse Worker series was the world she integrated into ours. And with this book she did it again. She did not just put some vampires, creepy vampires btw, into our world, but she created this whole system around them: Coldtowns. I love how much thought she put into this and that she came up with something new even when dealing with something like vampires, a topic most of us already read about a dozen times.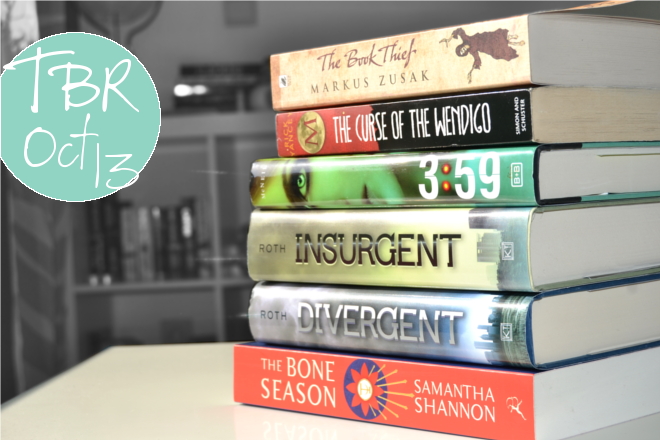 + Divergent (Divergent #1) by Veronica Roth
+ Insurgent (Divergent #2) by Veronica Roth
I wanted to read the whole series in a short amount of time. That's why I haven't read Insurgent yet and want to reread Divergent.
+ Vicious by Victoria Schwab
+ 3:59 by Gretchen McNeil
Two of my September preorders I am very excited about. I'm currently reading 3:59 but didn't like the first 50 pages that much.
+ The Book Thief by Markus Zusak
+ The Curse of the Wendigo (The Monstrumologist #2) by Rick Yancey
I'll be reading both books with friends. I already read The Book Thief but that was quite a while ago.
+ The Eye of Minds (The Mortality Doctrine #1) by James Dashner
+ The Bone Season (The Bone Season #1) by Samantha Shannon
Of curse I'm reading James Dashner's new book when it comes out. So looking forward to this one.