(TTT is a weekly meme hosted by The Broke and the Bookish)
Only ten? I want more than ten! (Even though I'm happy when I get even one because my family seems to not like to give me books as presents *sigh*). I already put together two lists for my family and for secret santa so that this list wasn't that hard to come up with.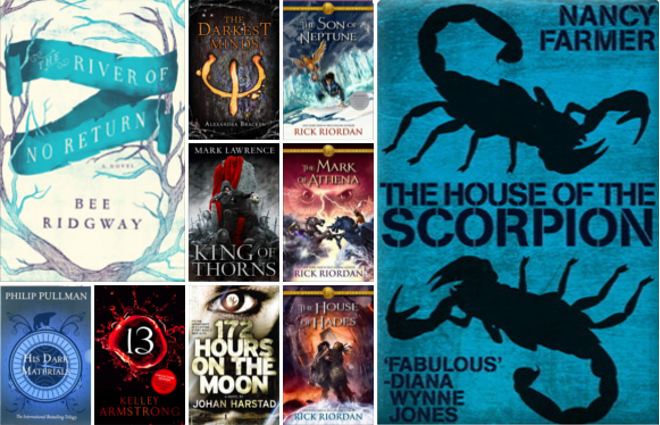 The House of the Scorpion has been on my wishlist for a while now. It's sounds like a unique story. After I finished reading the Percy Jackson series sometime this year I now want to start reading The Heroes of Olympus series. I already have the first book in the series and hope I'm getting the other three for christmas. King of Thorns has been on my wishlist for only a few weeks, but I put it there right after finishing Prince of Thorns and I'm definitely going to buy this when I don't get it for Christmas :D
It will still take some time until I need 13 by Kelley Armstrong but I would love to finally have the complete series on my shelf. River of no Return has been on my wishlist since I first heard about it and after seeing it everywhere in stores while being in the US I wanted it even more. The Darkest Minds is one of those books everyone is talking about right now. I initially wanted to wait until the third book comes out but I'm just too curious. 172 Hours on the Moon is a standalone scifi book with the moon as the main setting -> WANT.
I was considering to finally read the His Dark Materials series and found this pretty box set. I guess this is also something I'm going to buy myself if I don't get it for Christmas.