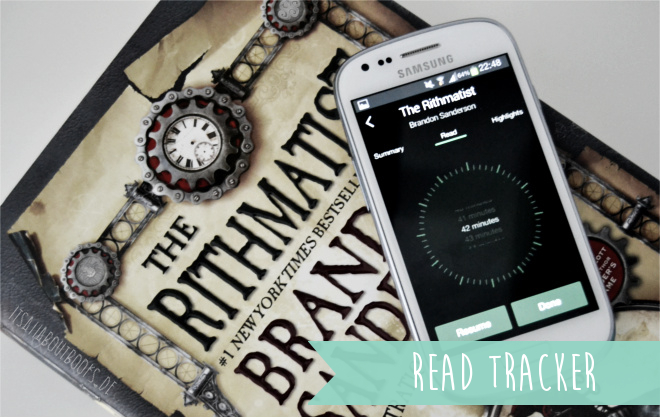 I love keeping track of the books I read in every possible way. I have notebooks, I have excel sheets and google documents and the only thing missing was some app to keep track of how long I actually read on one book. Not that I really care about that and want to improve or anything like that. I just thought it would be a fun fact to know. Then I found the ReadTracker app (for android) which I used these past two weeks and I'm definitely going to keep using. 
ReadTracker is an app to keep track of how many pages of a book you read in how many minutes. It then shows you not only your progress but also statistics on how much longer you will need to read to finish the book and how many hours to spend daily with the book to finish it in one week. If you like to keep track of quotes: you can create highlights for books in registering its text and the position in the book. 
It's also possible to connect this app to your Readmill account (Readmill is as an app to read ebooks on your phone) and share your progress (I don't have a Readmill account and didn't look into this though).
(Click on the pictures to better see the details)
1. You get a list with all your finished books with their title, author, cover and when you finished them. You can then click on each of those books to get more details about them. When finishing a book you can also write some remarks about it. You can chose in the options if you want them to show on this page or not.
2. Another list is the one with the books you are currently reading. You can of course be reading multiple books at the same time. When you click on one of those you can start tracking your time. It also shows you your current progress for each book.
3. You just have to click on the always present plus button in the top right corner to add a new book. You can search for books (via Google books) by using the title, author or ISBN. I always use ISBN to get the edition with the right cover. If ReadTracker can't find the book you can manually add the book. In both cases you get to the screen above to type in/correct the number of pages. You can also switch to use percentage.
(Click on the pictures to better see the details)
4. This is how the summary page of a book looks like once you started reading. You will get one of those circles for each session. They are the bigger the longer you read. It shows how much time in how many sessions you spend so far and how much longer you will need overall and each day if you want to read it over a week.
5. Once you start a session the clock starts ticking! (not literally,there is no sound but it moves! :D) You can then either "Pause" a session which just stops the clock (its starts tracking again if you click "Resume") or you can stop the session.
6. When you stop a session you can then track your current progress in saving your current page number or percantage. (Downside: you can only scroll through the pages which is annoying if you read a lot in one session and the percentage has a decimal which makes the scrolling even more annoying)
With The Rithmatist I got all this in green but the color is not always the same. I so far had four different colors.