"I desperately want to read…" is a tag that's currently making its way through the German book blogosphere and I got tagged by Rishu.
The rules are simple: Name five books you desperately want to read which aren't sequels! They have to be completely new-to-you books! And tag 8 fellow bloggers (I skip that one. If you haven't done the tag yet but want to: I tag YOU!)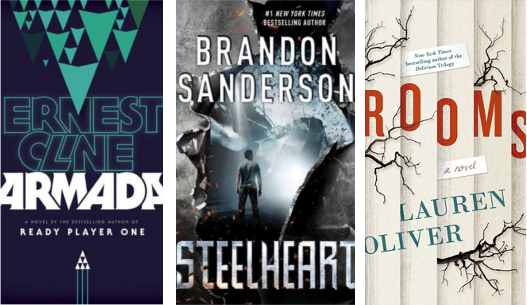 I don't have a lot of books on my wishlist that fit the rules and that are out already. There is only one book that came out last year, the other four are all books that still need to be published and I'm dying to get:
+ Armada by Ernest Cline
Ernest Cline says that if you liked Ready Player One (which I LOVED), you're going to like this one too. And it has an awesome cover! Gimme!
+ Steelheart by Brandon Sanderson
I want every single book written by Sanderson and this one is at the top of my wishlist. I will probably get this one soon.
+ Rooms by Lauren Oliver
Delirium trilogy aside I dig everything she writes and can't wait to get my hands on this beautiful book.
+ Heartless by Marissa Meyer
Marissa Meyer is the queen of retellings! Can't wait to read this one about the Queen of Hearts!
+ A Darker Shade of Magic by Victoria Schwab
"pirates, Londons (plural), sadistic kings (and queens), epic magicky fights scenes,…" WANT!