Waiting On Wednesday is a weekly event, hosted by Breaking the Spine, that spotlights upcoming releases.
I've been thinking about taking part in this meme for quite some time but didn't like the idea of another weekly post besides Top Ten Tuesday. I then decided to participate every first Wednesday of a month to show you the books I'm waiting for to be released that month.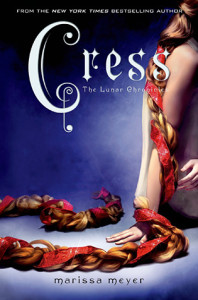 Cress (Lunar Chronicles #3) by Marissa Meyer
Cinder and Captain Thorne are fugitives on the run, with Scarlet and Wolf in tow. Together, they're plotting to overthrow Queen Levana and her army. 
Their best hope lies with Cress, who has been trapped on a satellite since childhood with only her netscreens as company. All that screen time has made Cress an excellent hacker—unfortunately, she's just received orders from Levana to track down Cinder and her handsome accomplice. 
When a daring rescue goes awry, the group is separated. Cress finally has her freedom, but it comes at a high price. Meanwhile, Queen Levana will let nothing stop her marriage to Emperor Kai. Cress, Scarlet, and Cinder may not have signed up to save the world, but they may be the only ones who can. (Goodreads)
Why I'm waiting: Because I need more Wolf in my life! :D After reading Cinder I decided to wait until the last book comes out because I wanted to read them all together but then I just couldn't wait any longer and finally read Scarlet and now I can' wait to read Cress. I just love this series so much.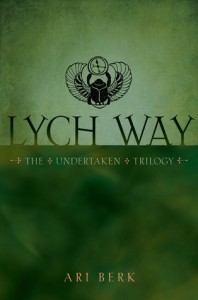 The Lych Way (The Undertaken #3) by Ari Berk
Silas Umber has returned from Arvale, his family's ancestral home, having disturbed the tormented spirits of his ancient line. Frantic to retrieve the shade of his beloved Beatrice, he turns his back on the spectral chaos he has left behind, unaware that the malevolence he unleashed has followed him back to Lichport.
As his family and friends suffer and fall at the hands of the vengeful Huntsman from Arvale's sunken mansions, Silas must reach deep into his complicated bloodline to summon powers and wisdom beyond those required of a simple Lichport Undertaker. But the dark and painful secrets of his birth threaten to overwhelm him, and if he can't lay the ghosts of his own past to rest, if he refuses to make the required sacrifice, Silas may lose everything and everyone he has grown to love and worked to protect. (Goodreads)
Why I'm waiting: This is the last book in the Undertaken trilogy, a series I like a lot. It's a gothic/horror story that is slow paced, quiet and  lives from an interesting story and its characters. I also love these covers a whole lot and can't wait to have all three of them together on my shelf.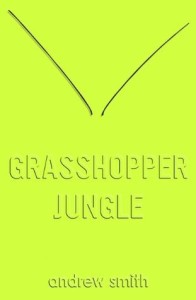 Grasshopper Jungle by Andrew Smith
Sixteen-year-old Austin Szerba interweaves the story of his Polish legacy with the storyof how he and his best friend , Robby, brought about the end of humanity and the rise of an army of unstoppable, six-foot tall praying mantises in small-town Iowa.

To make matters worse, Austin's hormones are totally oblivious; they don't care that the world is in utter chaos: Austin is in love with his girlfriend, Shann, but remains confused about his sexual orientation. He's stewing in a self-professed constant state of maximum horniness, directed at both Robby and Shann. Ultimately, it's up to Austin to save the world and propagate the species in this sci-fright journey of survival, sex, and the complex realities of the human condition. (Goodreads)
Why I'm waiting: The cover! Look at it! Don't you want to own that no matter what it's about?!
I also MUST have this because it's by Andrew Smith. And this sounds like it's going to be more like his Marbury Lens books again. At least I hope it is.