Waiting On Wednesday is an event, hosted by Breaking the Spine, that spotlights upcoming releases.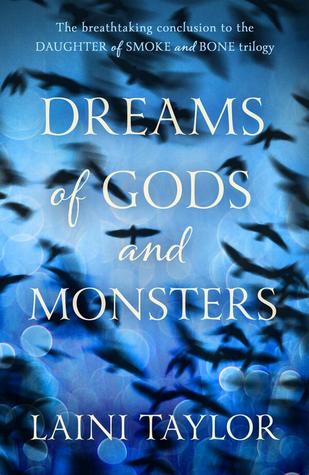 Dreams of Gods and Monsters (DoSaB #3) by Laini Taylor
When Jael's brutal seraph army trespasses into the human world, the unthinkable becomes essential, and Karou and Akiva must ally their enemy armies against the threat. It is a twisted version of their long-ago dream, and they begin to hope that it might forge a way forward for their people.

And, perhaps, for themselves. Toward a new way of living, and maybe even love. (Goodreads)
Why I'm waiting: It's the last book in a series that I love. And look at that cover! Gorgeous!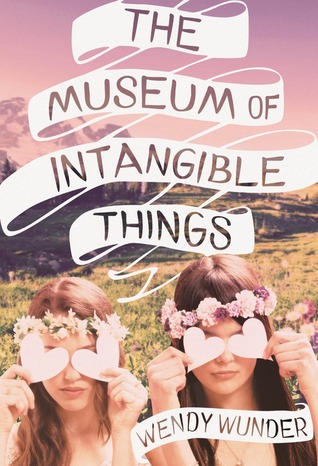 The Museum of Intangible Things by Wendy Wunder
Hannah and Zoe haven't had much in their lives, but they've always had each other. So when Zoe tells Hannah she needs to get out of their down-and-out New Jersey town, they pile into Hannah's beat-up old Le Mans and head west, putting everything—their deadbeat parents, their disappointing love lives, their inevitable enrollment at community college—behind them.

As they chase storms and make new friends, Zoe tells Hannah she wants more for her. She wants her to live bigger, dream grander, aim higher. And so Zoe begins teaching Hannah all about life's intangible things, concepts sadly missing from her existence—things like audacity,insouciance, karma, and even happiness. (Goodreads)
Why I'm waiting: I'm not sure if I'll get this book right away when it comes out because of me not being in the mood for contemporaries right now. I loved her first book though and want to read this eventually.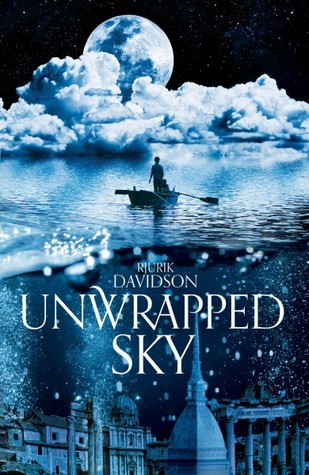 The Unwrapped Sky by Rjurik Davidson 
Caeli-Amur: an ancient city perched on white cliffs overlooking the sea; a city ruled by three Houses, fighting internecine wars; a city which harbours ancient technology and hidden mysteries. But things are changing in Caeli-Amur. Ancient minotaurs arrive for the traditional Festival of the Sun. The slightly built New-Men bring their technology from their homeland. Wastelanders stream into the city hideously changed by the chemical streams to the north. Strikes break out in the factory district.

In a hideout beneath the city, a small group of seditionists debate ways to overthrow the Houses. How can they rouse the citizens of the city? Should they begin a campaign of terror? Is there a way to uncover the thaumaturgical knowledge that the Houses guard so jealously? As the Houses scramble to maintain their rule, it becomes clear that things will change forever in Caeli-Amur. (Goodreads)
Why I'm waiting: I read an excerpt of Unwrapped Sky and liked it so much that I preordered the book right after.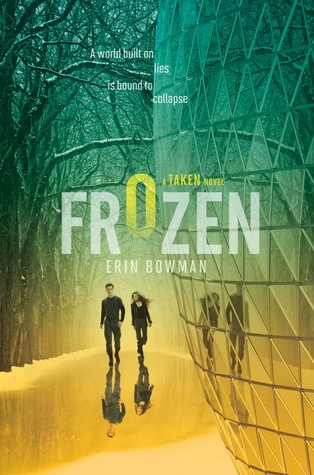 Frozen (Taken #2) by Erin Bowman
The Heists were only the beginning.

Gray Weathersby escaped from the primitive town of Claysoot expecting to find answers, but what he discovered shook him to the core: A ruthless dictator with absolute power. An army of young soldiers blinded by lies. And a growing rebellion determined to fight back.

Now Gray has joined a team of rebels on a harsh, icy journey in search of allies who can help them set things right. But in a world built on lies, Gray must constantly question whether any ally—or enemy—is truly what they seem… (Goodreads)
Why I'm waiting: I wouldn't say I loved Taken, the first book in the series, but I liked it and want to know what happens next (even though I'm afraid of the love triangle)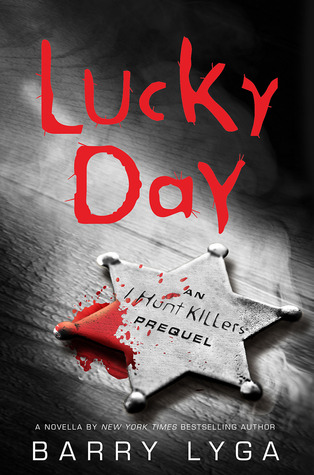 Lucky Day (Jasper Dent #0.1) by Barry Lyga
This is the story of the small town sheriff who captured one of the world's most ruthless and cunning murderers.

It all started with Dead Girl #1 and Dead Girl #2, the first killings in the sleepy town of Lobo's Nod in decades. Two murders: just a coincidence, or something more sinister? One thing's for sure — it was definitely inconvenient in a year when Sheriff G. William Tanner, a mourning widower, had to run for reelection.

With a trail gone cold, it's only luck that links the murders to the most notorious serial killer in memory. And in a town like Lobo's Nod, the killer must be someone Tanner already knows…. (goodreads)
Why I'm waiting: I wish it would be the final book in the series that comes out this month but at least this short story will help pass the time until September. And I can't wait to read more about this back-story.
Which books are you waiting for this month?