Waiting On Wednesday is a weekly event, hosted by Breaking the Spine, that spotlights upcoming releases.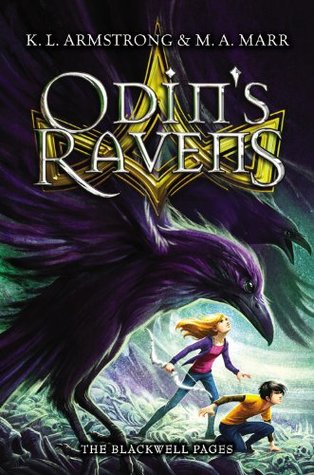 Odin's Raven (The Blackwell Pages #2) by Kelley Armstrong
When thirteen-year-old Matt Thorsen, a modern day descendant of the Norse god Thor, was chosen to represent Thor in an epic battle to prevent the apocalypse he thought he knew how things would play out. Gather the descendants standing in for gods like Loki and Odin, defeat a giant serpent, and save the world. No problem, right?

But the descendants' journey grinds to a halt when their friend and descendant Baldwin is poisoned and killed and Matt, Fen, and Laurie must travel to the Underworld in the hopes of saving him. But that's only their first stop on their journey to reunite the challengers, find Thor's hammer, and stop the apocalypse–a journey filled with enough tooth-and-nail battles and larger-than-life monsters to make Matt a legend in his own right. (Goodreads)
Why I'm waiting: It's Kelley Armstrong… I want ALL the books she writes. Besides that: I enjoyed the first book in the series and can't wait to read the next one. Also: pretty cover!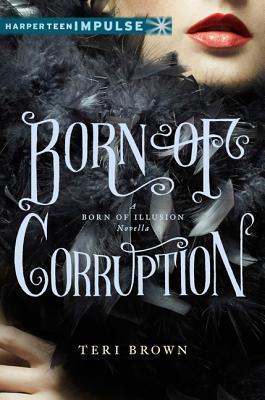 Born of Corruption (Born of Illusion #1.5) by Teri Brown
Cynthia Gaylord, a vivacious blonde flapper and the niece of one of the most infamous mob bosses in New York City, loves scavenger hunts, and the one she's putting together for her best friend Anna's going-away party is going to be the swankiest one ever. But then, Anna Van Housen is no ordinary friend. She is reputed to be Harry Houdini's illegitimate daughter and a magician of the first order—and she possesses psychic powers.

Before Anna leaves for a European tour with her vaudeville company, Cynthia throws open the doors of her Gramercy Park mansion for a giant bash, but when one of the guests turns up dead, Cynthia and Anna must join forces to discover the truth. Who is the mysterious dead man? And which of Cynthia's guests could have killed him? Cynthia's relatives in the mob? Or someone related to the Society for Psychical Research, a shadowy group with a dangerous history? Cynthia and Anna have to find out who done it before the coppers are called in . . . something both Cynthia and Anna are eager to avoid. (Goodreads)
Why I'm waiting: I LOVED Born of Illusion and can't wait to read the next one in the series. It's nice to get a short story to pass the time.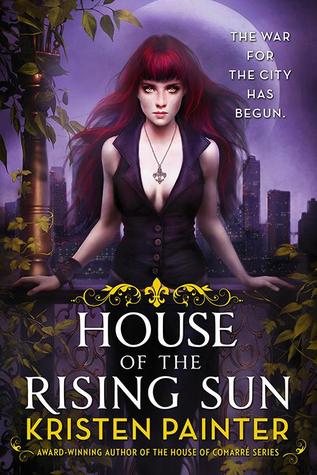 House of the Rising Sun (Crescent City #1) by Kristen Painter
Augustine lives the perfect life in the Haven city of New Orleans. He rarely works a real job, spends most of his nights with a different human woman, and resides in a spectacular Garden District mansion paid for by retired movie star Olivia Goodwin, who has come to think of him as an adopted son, providing him room and board and whatever else he needs. 

But when Augustine returns home to find Olivia's been attacked by vampires, he knows his idyllic life has comes to an end. It's time for revenge—and to take up the mantle of the city's Guardian. (Goodreads)
Why I'm waiting: I only read one book by Kristen Painter so far and will probably finish that series before I start this new one but it sounds really good. Still confused about the cover though: why is there a girl when it's told from a male pov?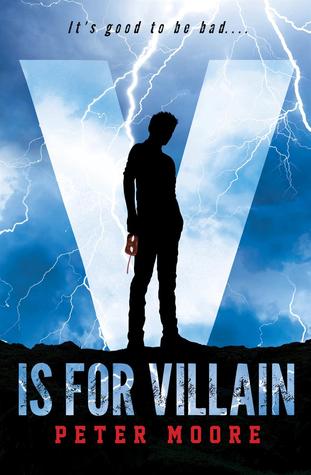 V is for Villain by Peter Moore
Brad Baron is used to looking lame compared to his older brother, Blake. Though Brad's basically a genius, Blake is a superhero in the elite Justice Force. And Brad doesn't measure up at his high school, either, where powers like super-strength and flying are the norm. So when Brad makes friends who are more into political action than weight lifting, he's happy to join a new crew-especially since it means spending more time with Layla, a girl who may or may not have a totally illegal, totally secret super-power. And with her help, Brad begins to hone a dangerous new power of his own.

But when they're pulled into a web of nefarious criminals, high-stakes battles, and startling family secrets, Brad must choose which side he's on. And once he does, there's no turning back. (Goodreads)
Why I'm waiting: All I need to know: villains. I need more books about villains!