(TTT is a weekly meme hosted by The Broke and the Bookish)
I always do monthly TBRs but choosing what to read over the next three months? Not that easy! I have a lot of books I would love to read all at once right now and I also got a few review books I need to read. So I just chose the first ten that came to my mind even though there are a lot of other books I want to read over the summer.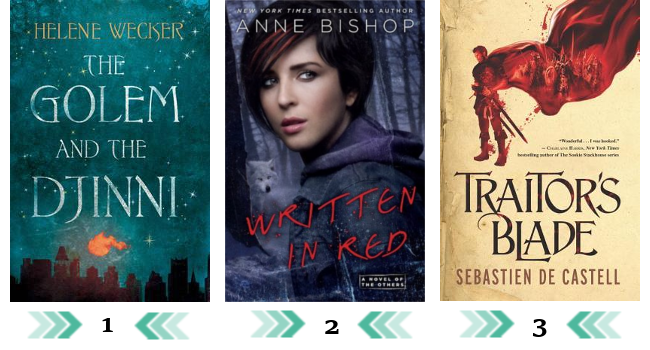 The Golem and the Djinni by Helene Wecker: I'm VERY excited about this book and I hope it meets my expectations. I want to read more epic fantasy books with creatures I haven't read about before or which are at least not as common as others. I recently read another book about djinns and I liked it a lot.
Written in Red by Anne Bishop: I've only heard really good things about this one. Everyone I know seems to love it and even though I already started way too many series this year, I want to read this SO BAD.
Traitor's Blade by Sebastien de Castelle: I was browsing titles on EW last weekend, looking for more epic fantasy books when I found this one. I haven't heard a lot about it yet but couldn't resist the "disgraced swordsman" and "a royal conspiracy"

.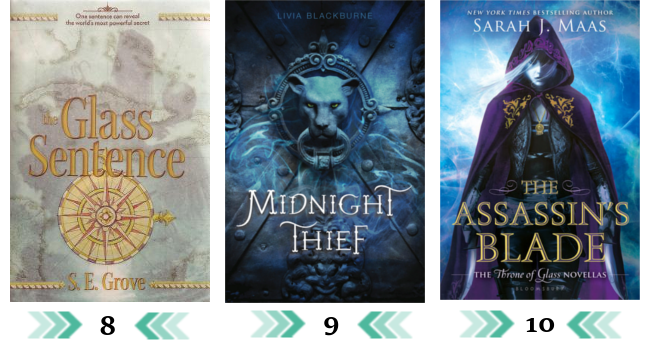 The Glass Sentence by S.E. Grove: This is going to be the book out of all these that I'm going to read first. "…

th

e Great Disruption of 1799, when all the continents were flung into different time periods" THIS SOUNDS SOOO GOOD! I hope this book offers some epic worldbuilding and an exciting story. I'm a bit afraid my expectations might be too high though :D
Midnight Thief by Livia Blackburne: More epic fantasy! I love stories about thieves so this book is a must have. I've already heard good things about it too.
The Assassin's Blade by Sarah J. Mass: Why haven't I read this yet? I don't know. I'm quite embarrassed because I actually forgot about it. I'm going to read it as soon as possible though!
What books are you going to read this summer?