(TTT is a weekly meme hosted by The Broke and the Bookish)
Fall is my favorite season and I want to do nothing else but curl up in bed with a cup of tea and a good book! It's also a bit overwhelming with all its new releases. It's a real struggle to choose what book to read next and to list only 10 books of my fall TBR!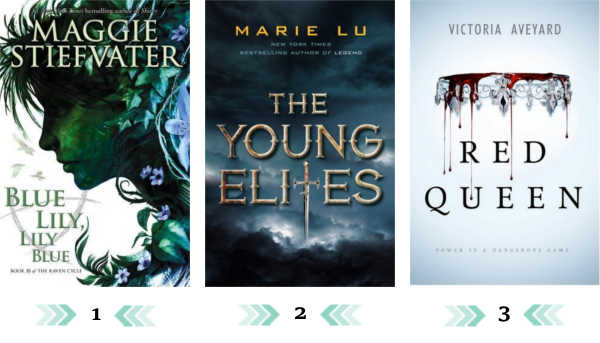 Blue Lily, Lily Blue by Maggie Stiefvater
One of my favorite series continues and I'M SO EXCITED! I'm going to reread the first two books first to make sure I remember all the important facts before I dive into this one. I MISSED MY RAVEN BOYS! <3
The Young Elites by Marie Lu
I loved Marie Lu's Legend series and I could not have been happier about the news that her new series is going to be fantasy. Have you seen her Pinterest board for this one? I bet this is going to be REALLY good!
Red Queen by Victoria Aveyard
I don't even know why I haven't read this yet. When I got this from EW I wanted to read it right away because I'm so excited about this. This sounds just SO GOOD and the cover! I'm definitely not going to wait that much longer!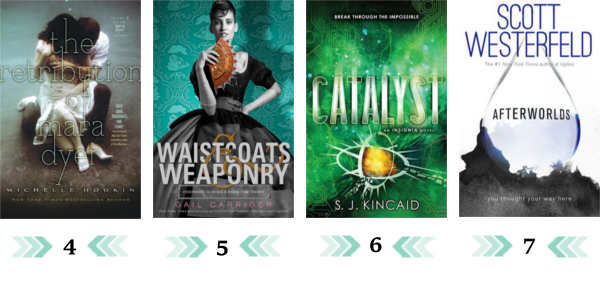 The Retribution of Mara Dyer by Michelle Hodkin
At first I didn't want to put this on the list because I will only believe that this is really coming out in November when I have it in my hands! I'm also going to reread the first two books before reading this one. It's just been too long since the 2nd one came out (and I love the series…).
Waistcoats & Weaponry by Gail Carriger
I LOVE this series, even more than her adult series. Can't wait to get back to Sophronia and SOAP <3 I NEED THINGS TO HAPPEN!
Catalyst by S.J. Kincaid
I can't believe this series is coming to an end already. It's another series I really love. I wish more people would read it. It's so much fun and has awesome characters who are hilarious and adorable.
Afterworlds by Scott Westerfeld
A book inside a book! I love those kind of stories! And I've been waiting for a new book by him after falling love with his Leviathan series for so long!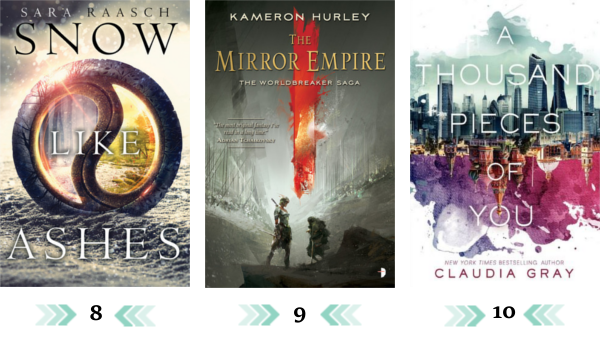 Snow Like Ashes by Sara Raasch
I'm so happy that there are so many new epic fantasy series in YA coming out. I hope I keep being lucky with my choices when reading this one. So far I didn't have any real disappointments with YA fantasy.
The Mirror Empire by Kameron Hurley
One of those books I got from NG (and should have read by now) that I requested without really thinking about it. By now I've heard great things about it though and hope I love this new epic fantasy series.
A Thousand Pieces of You by Claudia Gray
PARALLEL UNIVERSES! That's all I needed to know to want to read this book! (when I saw THAT cover though, I wanted it even more). And I already heard from other bloggers that it is good. Can't wait to start reading it!
Which books are you going to read this fall? Have you read any of these books?