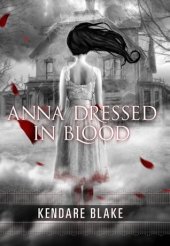 Anna Dressed In Blood by Kendare Blake
Cas Lowood has inherited an unusual vocation: He kills the dead.
Anna Dressed in Blood, a girl entangled in curses and rage, a ghost like he's never faced before. She still wears the dress she wore on the day of her brutal murder in 1958: once white, now stained red and dripping with blood.
Bring Me to Life by Evanescence
"My spirit sleeping somewhere cold. Until you find it there and lead it back home"
Kill of the Night by Gin Wigmore
"I wanna taste the way that you bleed, oh. You're my kill of the night"
Tragdy + Time by Rise Against
"Nothing matters but the pain when you're alone. The never-ending nights when you're awake."
Misguided Ghosts by Paramore
"We are just misguided ghosts. Traveling endlessly.
The ones we trusted the most. Pushed us far away."
Bad Blood by Bastille
"All this bad blood here, won't you let it dry? It's been over for years, won't you let it lie?"
Issues by Escape the Fate
"This is the death of me. I feel it constantly.
Just like an enemy. That wants to see me bleed"
Crawling in the Dark by Hoobastank
"Will the ending be ever coming suddenly? Will I ever get to see the ending to my story?"
Monster by Skillet
"So stay away from me, the beast is ugly . I feel the rage and I just can't hold it"