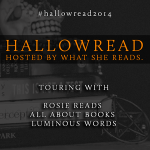 Did you like reading Anna Dressed in Blood by Kendare Blake? Do you want to read more stories about ghosts? Here is a list of books you can read next.
What to read after Anna Dressed In Blood:
Girl of Nightmares by Kendare Blake
The obvious choice: the second and last book in the Anna series. Just as good as the first book and a very satisfying ending!
The Diviners by Libba Bray
Naughty Jon is awesome! If you are into horror and historical fiction you need to read this one!
The Vanishing Season by Jodi Lynn Anderson
This is quiet unique. It's not scary at all but a great take on ghosts.
Odd Thomas by Dean Koontz
More adult (or new adult if you want) than YA, but a really great series with one of my all-time favorite characters Odd Thomas who can see ghosts.
Death Watch by Ari Berk
A gothic horror story that is a rather quiet and slow read but I loved it for exactly that. 
The Name of the Star by Maureen Johnson
A great retelling of Jack the Ripper!
Liesl & Po by Lauren Oliver
Lauren Oliver has a beautiful writing style and her middle grade books are amazing!
Rooms by Lauren Oliver
Another (adult) book that has ghosts in it without being scary. Loved the idea of telling a story from a ghost's POV.