Last year I had the idea to mark places on a map that I visited through reading a book. Lots of people seem to like this idea and followed me in creating a google map. Around The World was born.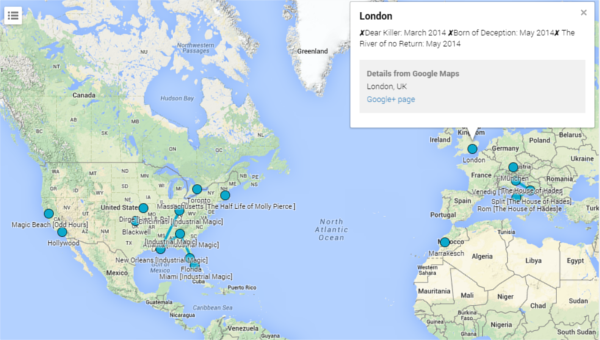 I want to do it again in 2015 and because we all noticed that most of our marks are placed in the US, I wanted to dp it as a challenge that motivates us to read books with more diverse settings.
This challenge will be just for fun. No winning and no lossing. There won't be a giveaway at the end. You'll be doing it just for you. This challenge is just to collect a list of people participating and comparing maps as well as having a motivator to look out for books with a setting outside the US.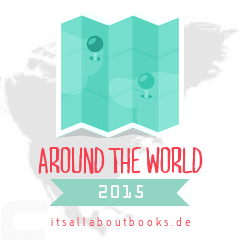 If you want to participate all you have to do is:
The "Rules":
There is no start and/or end date for when to join the challenge (latest date to enter a link is Dec 31th, 2015)
A book counts if you've read it in 2015 (= started AND finished in 2015), no matter when you joined the challenge
If characters travel to different places in the book, every place counts
Tip: you can connect places on a google map! ;)
One book can count for multiple mini challenges
The mini-challenges:
These mini-challenges are optional! The main goal is just to have a map full of dots that are hopefully spread all over the world. Some of these mini-challenges are rather easy, others not so much. For some you can set your own goal of books you want to read.
Read one book for each continent
Read one book for each state in the US
Read one book for each ocean (the character travels across the ocean, no matter how)
The mountaineering challenge: climb the Seven Summits
Three Poles Challenge: visit North Pole, South Pole and Mount Everest
Visit a certain number of extreme points of Earth
Read a certain number of books set in capital cities 
Read a certain number of books set in at least 5 different places (e.g. road trip books)
Read a certain number of books that are set in two places from different continents
Read a certain number of books within a 100km/1.5 Mile radius of where you live
Visit a certain number of the most famous landmarks in the world
A to Z challenge: Find a place for each letter in the alphabet
Visit a certain number of countries.
Read books from authors from a certain number of different countries.
Read a certain number of books set in places you've visited yourself.
Here is a google spreadsheet that can help you keep track of your progress for these mini-challenges. IMPORTANT: go to the Read Me tab first to learn how to use it! This is a read-only file. You have to make yourself a copy within your google docs to be able to use it. (via File>Make a copy)
How to create  and work with a google map:
login with your google account
go to http://maps.google.com
click into the empty! search field and then click "my maps" 
click the "create" button
Adding places: search for a place, then click on it on the map. The pop-up provides the option to add it to your map
Tip: you can use different colors and symbols! (eg for different mini-challenges)
Connecting places: use the "draw lines" option under the search box
Embed your map: click the folder in the box on the left and then choose "embed on my website"
Important! For this to work, the map must be public (via "share" in the top right corner)
Useful links to find books with diverse settings: