One of my most anticipated releases of 2016 is Beyond the Red by Ava Jae. When I first saw the synopsis and read that the MC is AN ALIEN QUEEN AND THE FIRST FEMALE RULER I was over the moon excited about this book. I was definitely going to pre-order it. Then, while I was thinking about ideas for my Sci-Fi November posts, I saw Ava mentioning in a tweet that "all major characters are mixed race/dark-skinned" (as if I wasn't excited enough about this book already) and this gave me the idea to search for other YA Sci-Fi books with main characters of color.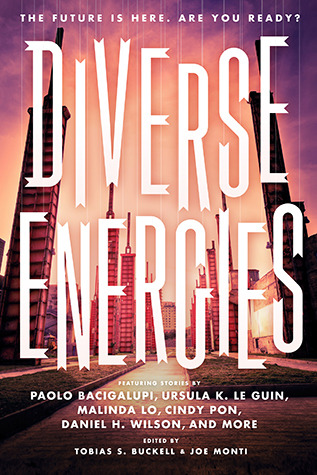 If you want to dive into stories about a diverse group of teenagers and discover a bunch of new authors you should check out DIVERSE ENERGIES. This book is a collection of Sci-Fi/Dystopian short stories by 11 different authors, Paolo Bacigalupi, Ursula K. Le Guin, Malinda Lo, Cindy Pon, and Daniel H. Wilson being some of them.
The title pretty much says is all: this anthology is about diversity and the stories are anything but your typical YA dystopia.
Dystopia, (Post-)Apocalypse
Cyborgs, Clones
Zombies
In space, other planets
Time Travel
Note: I haven't read a lot of these books yet myself so there is no guarantee that every single book on this list actually has a MC of color. I collected most of these titles from different lists, like GR's listopia, and sadly those aren't always right. So please correct me if any title doesn't belong! And if you know of more titles, I would be happy to add them.