Warning
: fopen(http://bit.ly/1OumUtU): failed to open stream: HTTP request failed! HTTP/1.0 410 Gone in
/www/htdocs/w00e036f/wp-content/plugins/AllAboutBooks/allaboutbooks.php
on line
47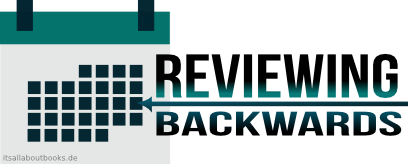 What is the challenge about?
A while ago there was a bit of talk on twitter about our reviews, that we mostly review frontlist titles and I wanted to make it a personal goal of mine to review more backlist titles in 2016. I already read a lot of backlist titles but often rather review only recently or to be released titles when I don't have the time to review them all. This challenge is all about changing that attitude.
Why would you want to review more backlist titles? For me, mostly, it is because it leads to more discussions with others because obviously more people have also read the book and this is FUN. I also like to discover more older book (especially because it often means I can binge read a series), so more reviews about backlist titles would be great. Authors are grateful as well when you review their books long after the book has been released.
The goal of the challenge?
Everyone who wants to participate can set their own goal. My personal goal is a ratio of 1:1, so that I review just as many backlist as frontlist titles. Every goal that means more than usually is okay. It can be a ratio like I do (even if it is 2:1 = only half as many backlist titles as frontlist titles), it can be fixed number or anything else you can come up with. Maybe look at how many you reviewed last year and set your goal accordingly.
I'm not going to do any giveaways for reaching goals, this is just for fun, but set yourself a goal you think you can achieve.
The challenge takes place from January 1, 2016 until December 31, 2016.
Want to participate?
Add the link to your blog post/page here.
(it can sometimes take up to 5min until you name appears in the list)
Participants:
no participants yet