Waiting On Wednesday is a weekly event hosted by Breaking the Spine that spotlights upcoming releases.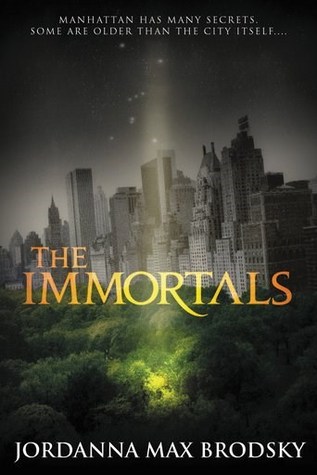 The Immortals by Jordanna Max Brodsky:

MANHATTAN HAS MANY SECRETS.
SOME ARE OLDER THAN THE CITY ITSELF.

Manhattan.
The city sleeps. Selene DiSilva walks her dog along the banks of the Hudson. She is alone-just the way she likes it. She doesn't believe in friends, and she doesn't speak to her family. Most of them are simply too dangerous.

Murders.
In the predawn calm, Selene finds the body of a young woman washed ashore, gruesomely mutilated and wreathed in laurel. Her ancient rage returns. And so does the memory of a promise she made long ago. To protect the innocent-and to punish those who stands in her way.

Gods.
With the NYPD out of its depth, Selene vows to hunt the killer on her own. But when classics professor Theo Schultz decodes the ancient myth behind the crime, the solitary Huntress finds herself working with a man who's her opposite in every way. Together, they face a long-forgotten cult that lies behind a string of murders, and they'll need help from the one source Selene distrusts most of all: the city's other Immortals.
Why I'm waiting for The Immortals:
On the one hand The Immortals sounds AMAZING (murder, immortals,a cult,…) and on the other hand I still have no idea what it is actually going to be about and that makes it all the more fascinating to me. Like, are there actual Gods living in this city, some Immortals who are going to help against these murders? I hope so because it sounds like a unique story. I also can't wait to find out if the focus is on the murders (as in your typical crime solving story but apparently with paranormal aspects) or if the main focus is the Immortals themselves like the title makes it seem. Basically I have no idea what to expect and I can't wait to read it and find out if this new series is any good.