Waiting On Wednesday is a weekly event hosted by Breaking the Spine that spotlights upcoming releases.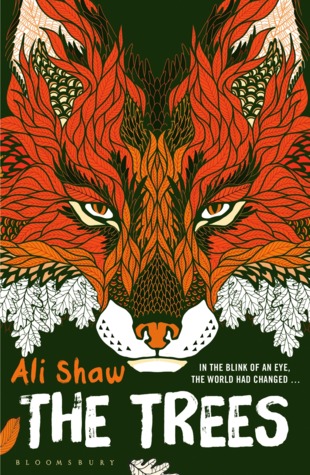 The Trees by Ali Shaw:

There came an elastic aftershock of creaks and groans and then, softly softly, a chinking shower of rubbled cement. Leaves calmed and trunks stood serene. Where, not a minute before, there had been a suburb, there was now only woodland standing amid ruins…

There is no warning. No chance to prepare.

They arrive in the night: thundering up through the ground, transforming streets and towns into shadowy forest. Buildings are destroyed. Broken bodies, still wrapped in tattered bed linen, hang among the twitching leaves.

Adrien Thomas has never been much of a hero. But when he realises that no help is coming, he ventures out into this unrecognisable world. Michelle, his wife, is across the sea in Ireland and he has no way of knowing whether the trees have come for her too.

Then Adrien meets green-fingered Hannah and her teenage son Seb. Together, they set out to find Hannah's forester brother, to reunite Adrien with his wife – and to discover just how deep the forest goes.

Their journey will take them to a place of terrible beauty and violence, to the dark heart of nature and the darkness inside themselves.
Why I'm waiting for The Trees by Ali Shaw:
I saw a picture of the finished copies in this tweet, read the synopsis and instantly pre-ordered. I didn't even think about it. I knew I need this. Doesn't that summary just sound WEIRD? I LOVE IT! It sounds like such a me book! AND THAT COVER!
I haven't read any of Ali Shaw's books yet but I know a lot of people loved The Girl With Glass Feet so I have very high hopes for this one.