At first I thought this would be a really easy post to write. I love villains so making a list of my favorites and least favorites shouldn't be hard BUT it is. There aren't actually that many books out there that I have read and that have a proper villain. Of course there are often bad guys, characters the heroes are working against, your usual everyday asshole, but it's not always the kind of character I would actually consider as a "real" villain or antihero.
I was especially surprised when I was searching for books that had a villain I didn't like and (to no one's surprise) I couldn't come up with many, I just love my villains. I almost feel bad for featuring the ones I did find because it makes them seem even worse because there are so few.
Favorite villains
Loki
Loki is my favorite villain ever! Tom Hiddleston made me fall in love with Loki first but then I read a bunch of Marvel comics with him and The Gospel of Loki and I can't get enough. Loki has done some really shitty things but he had also makes me FEEL things. He is the kind of character that does really questionable things and you like him anyway and you are like ooops??? That's exactly how you write a great villain. Loki is definitely one of the only-a-poor-misunderstood-creature, give-him-a-hug type of character. And don't even get me started on Teen Loki because HE TRIES SO HARD.
Victor Vale FRom V.E. Schwab's VICIOUS
Victor Vale is such a complex, well done antihero, I secretly call him my personal hero. What I like most is that you can have this huge discussion about whether Victor is good or not but it all comes down to him being in this gray area and you just can't say.
I always cackle with glee when I read about the Dane twins. They have so much fun doing bad things do people, it's fascinating to watch. They are kind of a weird case because they don't fall into the "love to hate" category even though I should hate them because they hurt my favorites but… they are just so wonderfully sadistic!?
(yes, another character created by V.E. Schwab, shut up, she is just really good at this kind of thing okay)
Why Holland? Because "no one suffers as beautifully as him". Holland is the perfect example of a character who does bad things because 1) he forced to and 2) he is really trying to do good things only no one can see it and maybe he should work on his methods.
The Lord Ruler from Mistborn by Brandon Sanderson
Talking of misunderstood creatures, the Lord Ruler is the perfect example. I always loved how he is portrayed as this super evil guy everyone is scared of and it's 100% believable and all that without really knowing him. But then you do get to know his background story and all of a sudden you're like WOW, so THAT is what made him this evil guy and it's really fascinating.
Mayor Prentiss from Chaos Walking by Patrick Ness
Also known as super evil genius, master manipulator and overall cunning asshole.
Even thinking about him causes an outburst of anger because he is so damn good at being evil but totally makes people think he is actually doing good. This deception he has going and how he manipulates my precious boy makes me want to bash his head in so bad. Definitely a case of love-to-hate.
Gretchen Lowell from Heartsick by Chelsea Cain
Sexy, manipulative, FEMALE serial killer! Hell to the yes! I love Gretchen and find her utterly fascinating. Watching someone enjoy doing all kinds of REALLY messed up stuff should make me run away screaming (which I totally would if she were real) but reading about her is strangely addictive. She makes me worry both about the author (for making this stuff up) and me (for liking this character).
Voldemort from Harry Potter by J.K. Rowling
I guess I don't need to say much about him because who doesn't think that Voldemort is a complex and perfectly done villain?!
Hook from Peter Pan by J.M. Barrie
It's funny how Hook is always the villain of this story when it's actually Peter Pan who is the asshole here. I mean okay, Hook is constantly trying to kill Peter and kidnaps kids and all that jazz but come on, he is stuck in a world full of kids, who wouldn't go batshit crazy in that situation, especially after what's been done to him. HE LOST HIS HAND TO A CROCODILE THAT IS TO HUNT HIM FOREVER.
Least favorite villains
Adelina Amouteru from THE YOUNG ELITES by Marie Lu
I don't even know why I list her because she is so not a villain. Nope. This book was supposed to be the origin story of a villain which got me all excited and then disappointed me so much. Villains are all about doing dark things because of their own strange logic and me liking them anyway. Adelina though? All she does is blush every second page and the "bad" things she does aren't even her own fault, it's more like wrong place at the wrong time. I didn't see any of the darkness that was supposed to be inside her at all. She is way to weak to be a proper villain. I didn't hate her because she was a great villain, I hated her because she was not a complex, dark character.
I think Fairest was the only book in the series where I really thought that Levana might make a proper villain because there we saw some really messed up shit. Overall though, Levana was kind of a weak villain because she never surprised me, she had it way too easy as a villain thanks to her abilities. She just wants to rule them all and where for example Mayor Prentiss from Chaos Walking does the same thing with genius manipulation of people, Levana just uses her conveniently fitting powers.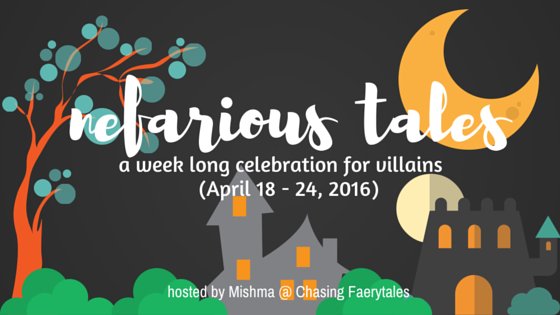 This post is part of Nefarious Tales, a week-long event hosted by Chasing Faerytales to celebrate villains. Check out Mishma's blog for more villainy posts all week and a giveaway.