Waiting On Wednesday is a weekly event hosted by Breaking the Spine that spotlights upcoming releases.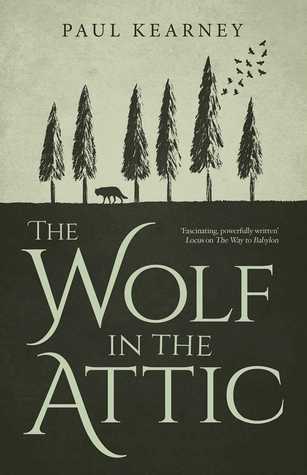 The Wolf in the Attic by Paul Kearney:

1920s Oxford: home to C.S. Lewis, J.R.R. Tolkien… and Anna Francis, a young Greek refugee looking to escape the grim reality of her new life. The night they cross paths, none suspect the fantastic world at work around them.

Anna Francis lives in a tall old house with her father and her doll Penelope. She is a refugee, a piece of flotsam washed up in England by the tides of the Great War and the chaos that trailed in its wake. Once upon a time, she had a mother and a brother, and they all lived together in the most beautiful city in the world, by the shores of Homer's wine-dark sea.

But that is all gone now, and only to her doll does she ever speak of it, because her father cannot bear to hear. She sits in the shadows of the tall house and watches the rain on the windows, creating worlds for herself to fill out the loneliness. The house becomes her own little kingdom, an island full of dreams and half-forgotten memories. And then one winter day, she finds an interloper in the topmost, dustiest attic of the house. A boy named Luca with yellow eyes, who is as alone in the world as she is.

That day, she'll lose everything in her life, and find the only real friend she may ever know.
Why I'm waiting for The Wolf in the Attic:
First of all: THE COVER! I love simple, illustrated cover and this one is great! I wanted it right away when I saw it, without knowing what the book is about.
Obviously, there isn't an actual wolf in the story, but I'm always drawn to stories that include wolves in some way, even if not as the actual animal but only figuratively (like one of my favorites: Tell The Wolves I'm Home).
And that synopsis? I can already see myself having all the feels! A girl that copes with her loneliness by creating imaginary worlds in her home, made from dreams and memories sounds beautifully sad.
I definitely need to know where that boy comes from and why she'll loose everything in her life (way to make me have feels before I even read the book).