Waiting On Wednesday is a weekly event hosted by Breaking the Spine that spotlights upcoming releases.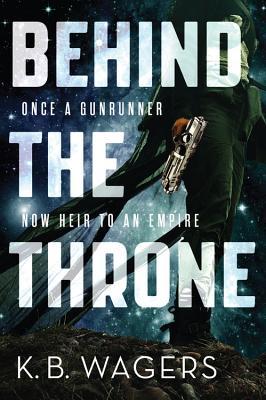 Behind the Throne by K.B. Wagers:

Meet Hail: Captain. Gunrunner. Fugitive. Quick, sarcastic, and lethal, Hailimi Bristol doesn't suffer fools gladly. She has made a name for herself in the galaxy for everything except what she was born to do: rule the Indranan Empire.

That is, until two Trackers drag her back to her home planet to take her rightful place as the only remaining heir. But trading her ship for a palace has more dangers than Hail could have anticipated. Caught in a web of plots and assassination attempts, Hail can't do the one thing she did twenty years ago: run away. She'll have to figure out who murdered her sisters if she wants to survive.
Why I'm waiting for Behind the Throne:
"Captain. Gunrunner. Fugitive." If doesn't scream most kickass female main character ever, then I don't know what does. I can't even put into words how excited I am about this. This is a woman who does NOT want the throne but would rather be a fugitive and captain of a SPACE SHIP, a GUNRUNNER. Basically a female Han Solo. I  mean can you imagine how entertaining it would have been if Han Solo had been handed the throne!? 
(bonus points for the sequel coming out this year already too!)