Waiting On Wednesday is a weekly event hosted by Breaking the Spine that spotlights upcoming releases.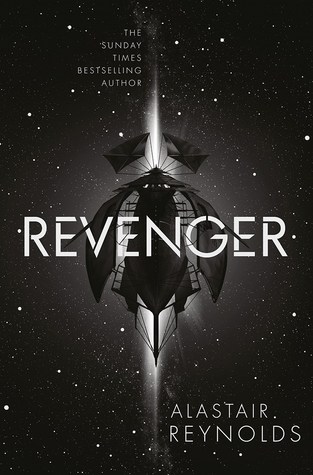 Revenger by Alastair Reynolds:

The galaxy has seen great empires rise and fall. Planets have shattered and been remade. Amongst the ruins of alien civilizations, building our own from the rubble, humanity still thrives. And there are vast fortunes to be made, if you know where to find them…

Captain Rackamore and his crew do. It's their business to find the tiny, enigmatic worlds which have been hidden away, booby-trapped, surrounded with layers of protection – and to crack them open for the ancient relics and barely-remembered technologies inside. But while they ply their risky trade with integrity, not everyone is so scrupulous.

Adrana and Fura Ness are the newest members of Rackamore's crew, signed on to save their family from bankruptcy. Only Rackamore has enemies, and there might be more waiting for them in space than adventure and fortune: the fabled and feared Bosa Sennen in particular
Why I'm waiting for Revenger:
It doesn't happen often that I want to pre-order a book by a new-to-me author as fast as I did with Revenger. All it took though is a description like "a tale of space pirates, buried treasure and phantom weapons, of unspeakable hazards and single-minded heroism …and of vengeance."
SPACE PIRATES. I've been looking for these kinds of books and I don't even understand why they aren't all over the place to be honest. I mean who doesn't like pirates!? AND PIRATES IN SPACE IS 10000x MORE EPIC. I would have been all over this book with that alone but it gets better: the story focuses on two sisters. FEMALE SPACE PIRATES!?!?! I'm so here for that.
I've been on a SciFi binge lately anyway so it was a no-brainer that I'm going to pre-order Revenger. It's nice that it comes with an epic cover though.