Waiting On Wednesday is a weekly event hosted by Breaking the Spine that spotlights upcoming releases.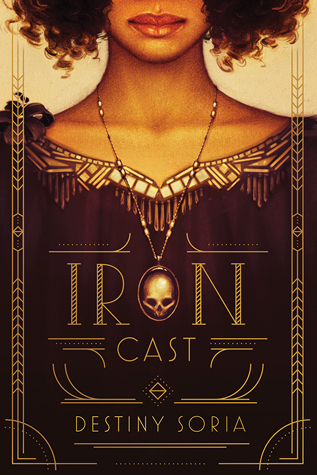 Iron Cast by Destiny Soria:

It's Boston, 1919, and the Cast Iron club is packed. On stage, hemopaths—whose "afflicted" blood gives them the ability to create illusions through art—captivate their audience. Corinne and Ada have been best friends ever since infamous gangster Johnny Dervish recruited them into his circle. By night they perform for Johnny's crowds, and by day they con Boston's elite. When a job goes wrong and Ada is imprisoned, they realize how precarious their position is. After she escapes, two of the Cast Iron's hires are shot, and Johnny disappears. With the law closing in, Corinne and Ada are forced to hunt for answers, even as betrayal faces them at every turn.
Why I'm waiting for Iron Cast:
I don't read historical fiction a lot, but I'm enjoying it every time I do. I first heard about Iron Cast when the cover was revealed and was drawn in right away.
The summary sounds just as amazing as the cover looks. First there is the magical aspect. Illusions through art? Sign me up! On top of that these girls are also con artists. MUST HAVE! 1919? Basically my favorite time period to read about! And to put the cherry on top: this is the story of two girls who are best friends. There aren't nearly enough female friendships in YA and I hope Iron Cast features exactly the kind of friendship I'm looking forward to.