(Top Ten Tuesday is a weekly meme hosted by The Broke and the Bookish)
I'm actually not someone who watches a lot of movies. I rather get obsessed with TV shows and I'm busy enough watching all those that I don't need a bunch of movies on top. BUT there are always a few that I'm really looking forward to (it's really just the Marvel movies and 2-3 more) and some THAT NEED TO BE OUT ALREADY *cough* Pacific Rim *cough*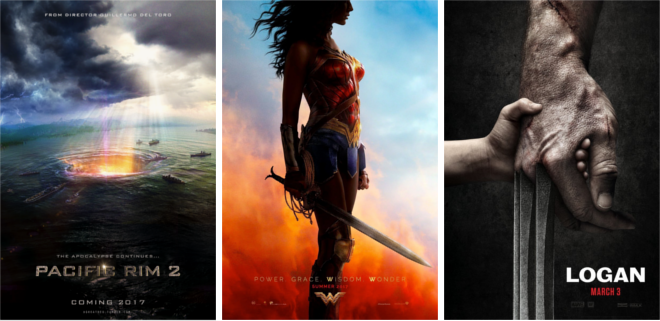 Pacific Rim 2
It's already been more than 3 years and 1236459 re-watches of the first movie and it's really about damn time that the second one comes out. The official cast so far is AMAZING but also makes me nervous because my favorite people are missing and OMG JUST LET ME HAVE MY FAVORITES BACK.
Wonder Woman
As if I would say no to this damn fierce warrior. This is actually the first DC movie (since the Dark Knight trilogy) that I'm excited about. And all it took is a kickass lady as the main character.
Logan
I know there are people bored of yet another movie about Logan BUT HAVE YOU SEEN THE TRAILER!? Logan has always been one of my favorites from the X-Men and I can't contain my excitement for this one.
Arrival
This seems like a whole new kind of alien movie and I'm beyond excited. I also don't know much about it because I want to go in blind, so I only watched the first teaser trailer.
Passengers
Very curious about this one where two people on a spaceship wake up way earlier than they should have. Movies that focus on such a small set of characters always fascinate me.
SW: Rogue One
Always here for more Star Wars movies, especially with a female lead!
Star Wars Episode VIII
Yes it still a long way to go until we get to see that one but that's how few movies I have on my to-watch list LOL
I absolutely LOVED Episode VII and hate that we have to wait two years between episodes. I'M NOT GOOD AT WAITING OKAY.
Thor: Ragnarok
OBVIOUSLY! (if you need a hint: Loki). I'm gonna be so mad if Doctor Weird-Ass ruins this movie for me.
Avengers: Infinity War
What's better than a superhero team where everyone just constantly mocks each other!? Slightly nervous of this one too though because Doctor Weird-Ass and Spider Baby.
Any other 2017 movie releases you're excited about that I missed?

This post is part of SciFi Month 2016. For more posts check out the Scifi Month 2016 tag.