Because getting lots of books at the Book Fair is not enough I also preordered some books that came out in October and I got a few presents too: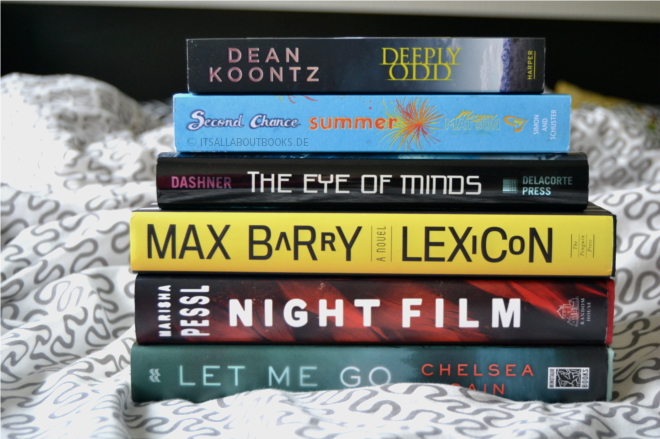 + Deeply Odd (Odd Thomas #6) by Dean Koontz
I love Odd Thomas and even if I haven't read book #5 yet and needed to have it. 
+ Second Chance Summer by Morgan Matson
This has been on my wishlist since it first came out and now I finally have it.
+ The Eye of Minds (The Mortality Doctrine #1) by James Dashner
Preordered this one of course. Too bad it wasn't as good as I hoped it would be.
+ Lexicon by Max Barry
Saw this everywhere when I was in the US and fell in love with the cover. Couldn't resist when I found it in the bargain bin.
+ Night Film by Marisha Pessl
Very curious about this one. Got it as a birthday present and was kind of shocked how heavy it is.
+ Let Me Go (Archie Sheridan #6) by Chelsea Cain
Hate that they didn't make a matching cover for the books I have but yay! a new Chelsea Cain book.