I always have way to many favorites to chose some books for a top 10 or in this case top 13 list. I feel bad for the ones I left out. I'm not sure if I'm just very good at choosing the right books for me or if I'm easily satisfied but these are the ones I felt like rereading right after I finished them.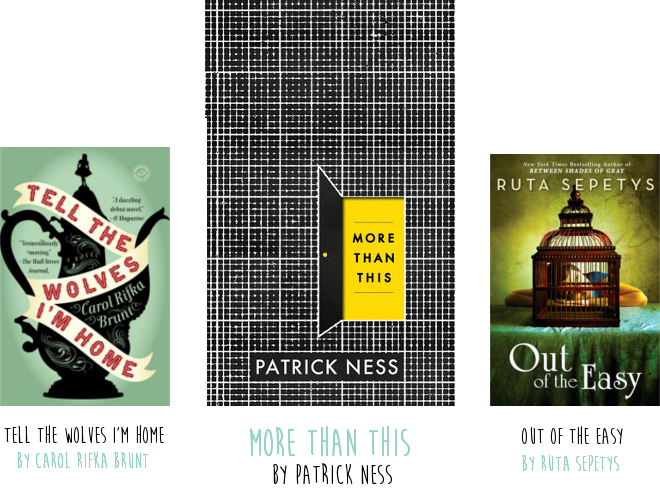 My expectations for More Than This were extremely high. I was afraid they were too high. But then this book blew my mind. Wow! If you haven't read it yet, go get it! Tell The Wolves I'm Home was the most beautiful and most sad story I read this year. I'm near tears again when I only think about it. Out of The Easy was just as good as the other two. I loved everything about this one.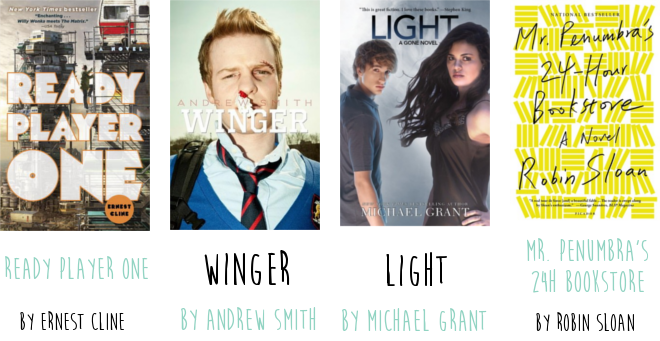 Both Ready Player One and Penumbra's 24 Hour Book Store have to be on this list because they are unique and just damn awesome. Both tell stories like I've never read before and I just felt at home while reading them. Winger and Light are both books that made me cry at the end, for very different reasons though. I already loved Andrew Smith's writing from his Marbury Lens series but now I know that he is just as good in writing contemporary. Maybe even better. Light is the perfect ending for an amazing series. 
I only read The Final Empire recently but it completely got me. It's not even fast paced but I fell in love with the characters and the world Brandon created. Sea of Shadows is Kelley's first epic fantasy novel and it really is epic. Can't wait to continue with these two series. The Bone Season was kind of a surprise. I only bought it because I met the author and was then kind of shocked how good it was. White Space is the most confusing book I ever read and that's what I loved about it. The Dream Thieves has to be on this list of course. You just have to fall in love with these characters. The Hollow City belongs on this list because it really creeped me out and surprised me with a plot twist I didn't expect.