Summary
A young woman picks up a book left behind by a stranger. Inside it are his margin notes, which reveal a reader entranced by the story and by its mysterious author. She responds with notes of her own, leaving the book for the stranger, and so begins an unlikely conversation that plunges them both into the unknown.
THE BOOK: Ship of Theseus, the final novel by a prolific but enigmatic writer named V. M. Straka, in which a man with no past is shanghaied onto a strange ship with a monstrous crew and launched onto a disorienting and perilous journey.
THE WRITER: Straka, the incendiary and secretive subject of one of the world's greatest mysteries, a revolutionary about whom the world knows nothing apart from the words he wrote and the rumours that swirl around him.
THE READERS: Jennifer and Eric, a college senior and a disgraced grad student, both facing crucial decisions about who they are, who they might become, and how much they're willing to trust another person with their passions, hurts, and fears.
My thoughts
When I held this book in my hands for the first time I fell in love with its getup. It looked like Abrams and Dorst put a lot of ideas and work into this book and created something amazing. I was sure that this must be a lot of fun to read. Sadly it was not. I always had to put myself together to go back to reading it and there were only a few times when I actually thought that it was fun. Even though I expected that this book to be a challenge in a way, that it will take a lot more time to read than a usual book, I was shocked how long it actually took and how exhausting it was to read.
Awesome book design
This book is worth every penny even if you don't like it, even if you never read it. What I'm still impressed with is that it does not only look like an old book from a library but that it also SMELLS like it! (I would have been disgusted and would never have touched the book if all these stains were real though :D) This book also comes with all kinds of little extras these two characters put in the book, like postcards and a map drawn on a napkin. Their notes in the margins look real as well. These notes come in different colors and two distinct handwritings (one of them a pain in the ass to read sometimes).
Just like a classic
Reading this book felt like being back at school where we had to over-analyze all these classics. The way these two people take this book apart and see clues everywhere was just like that. The only fun thing about this is: At least in the footnotes there were actual clues, hidden messages but the rest was just guessing, lots of "this could mean…".
The story "The Ship of Theseus" has the feel of a classic to it. It reminded me a lot of a H.G. Wells novel.
A brilliant concept
I still and always will love this book for it's amazing idea. With one book you actually get THREE different stories. It also genius how these stories are connected. Nobody knows who Straka is and the MC of The Ship of Theseus is called S. and doesn't know who he is. These two people writing in the margins find a lot of other connections between S. and Straka, and between events in this book and Straka's life. It was also exciting to see the impact their work on finding out who Straka is had on their life.
What I also liked about this book was to see the development of these two people's relationship, from total strangers to people who can trust each other with their secrets.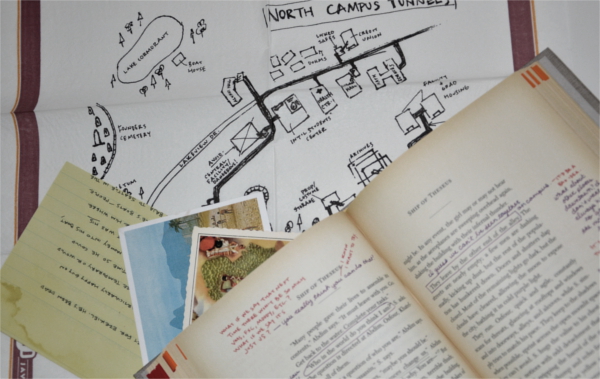 Messages in the margins were hard to follow
When I started reading the book I was excited to see how these two people are going to find out the identity of this mysterious author Straka. Pretty early I realized that I couldn't follow though. Their speculations are not only based on this book but also on other books Straka wrote, ones we don't know of course. Thus I had to read conversations without having a clue about what they are talking about.
Same goes for the story of their lives. At first you get to actually know these two people because they don't know each other and thus tell each other things about themselves (things that aren't always true though, which makes it even more annoying). Then they start only writing hints about things that happened and you can only guess what is going in their life but will never know if you're on the right track.
It also didn't help that they sometimes write these comments in a random order which kind of turns them into spoilers. They go through the book multiple times (each time a different color) so to not be confused or spoiled, you would have to go through the book multiple times too.
Not as interactive as I hoped
The story "The Ship of Theseus" has actual clues and messages in it that I thought were going to be fun to decode. There was only one single chapter where I could easily follow how the code is deciphered. All others were either way too complicated (I had to look it up on the internet and even then it was still confusing) or weren't even possible to decode for the reader because you needed resources you don't have, like another Straka book.
Just standing on the sideline, watching how they are having all the fun but not being part of it was disappointing.
Most unsatisfying ending I ever read
When I reached the end of S I would have loved to throw it across my room if it wasn't this precious looking thing. I sat there and asked: "That's it? That's what I spend hour after hour with this book for?" It felt like reading a murder mystery that ends with the investigator giving up and never finding the murderer. I had so many questions that aren't answered, there are so many hints we never got to read about again. It felt like I was only eavesdropping and missed hearing a lot of important information.
Overall
Do I recommend the book? YES. If you crave something completely different, a unique way of telling a story than go for it. I'm still glad I read it because it has been an extraordinary reading experience even though I was fuming when I reached the end. If you think all these troubles are worth this exceptional read then get it!