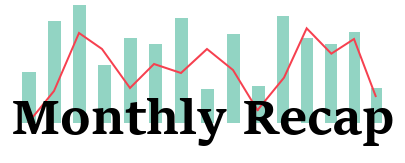 I usually did random recap posts (Flashbacks) but forgot about them all the time because I can't put them in my calendar. They turned out to be recaps of at least four weeks so I decided to go back to monthly recaps which I haven't done in a really long time.
Books I read:
June started off really good and I read a lot of amazing books but then I got stuck in a reading slump (still am). I'm just going to blame The Girl of Fire and Thorns! :P I really don't get why so many people love that series. At least I also read a new favorite this month: The Martian. That book was HILARIOUS!
Now I just hope that I get over that slump real quick before I'm too busy with studying and get to read all the awesome books I have on my list for July. 
Books I got:
Check out my June book haul
Books I reviewed:
Even though the end of June was not that great, overall it was a great month. It was over way too fast though. I wouldn't mind if July lasts a bit longer and brings some awesome books with it.
How did June go for you? Read any amazing books?